At the end of every semester, Iowa State University College of Engineering (COE) honors exceptional seniors within each department. Below are the seniors represented from the Electrical and Computer Engineering Department (ECpE).
*Full awards article can be found on COE's news site.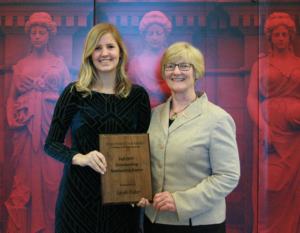 Sarah Huber, an electrical engineering major from Bettendorf, Iowa, is very committed to service to her profession and Iowa State. Huber has been in several prominent leadership roles, including Engineering Career Fair Co-Chair. Huber also created a website to help connect incoming female engineering students at Iowa State with an upperclassman student, faculty, or industry mentor that share similar interests and/or backgrounds, and she was recognized with the Digital Women Hack-a-thon By Women for Women prize for her efforts. She has completed internships with Texas Instruments, IBM Systems Group, and John Deere.
Huber will be working for Tesla in Palo Alto, California, as a power electronics program manager after graduation. She will be working with electronic vehicles, superchargers, and solar city systems across many engineering teams to produce these products. Read more about Huber's experience networking with female leaders at Tesla here.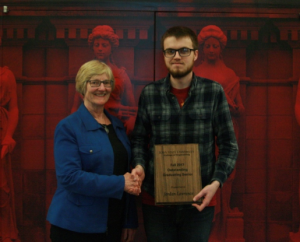 Jordan Lawrence, a software engineering student from North English, Iowa, excelled in academics, took the opportunity to study abroad and also completed multiple internships. During his time working with General Dynamics Information Technology, he built applications for internal use, worked with a variety of programming languages, wrote plugins for existing applications, and contributed to the agile development process. He also served as an intern for EMC Insurance as a software testing intern. In 2016, Lawrence broadened his horizons by traveling to England to study abroad at the University of Exeter.
After graduation, Lawrence will be working at General Dynamics Information Technology (GDIT) in West Des Moines as a software engineer.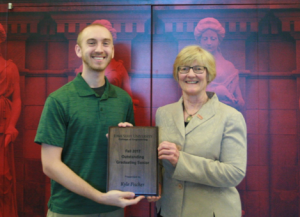 Kyle Fischer, a computer engineering major from Cedar Rapids, Iowa, was active in many organizations as an undergraduate. He served as a peer mentor for a freshman problem solving class and as a lab teaching assistant in third-year courses for computer engineering. Fischer also stayed busy by participating in groups such as the FIRST Lego League, Iowa State concert bands and the ISU Rifle and Pistol club, in which he was vice president and treasurer. He also has his amateur radio license, is an Eagle Scout, and has done two internships for Rockwell Collins.
Fischer is enrolled in a concurrent graduate school program here at Iowa State to earn his master's degree in software engineering.