At the end of each semester, the College of Engineering honors twelve outstanding seniors. From these twelve, one is selected to serve as the college's student marshal at the undergraduate commencement ceremony.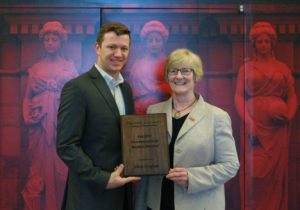 Jakob Croghan, graduating senior in industrial and manufacturing systems engineering, will be the College of Engineering's student marshal during the fall 2017 undergraduate commencement ceremony. He will be accompanied by K. Jo Min, associate professor of industrial engineering, to lead the engineering class into the ceremony held on Dec 16.
The Manning, Iowa, native will graduate with honors and a 3.86 GPA. During his time at Iowa State, he served in many leadership roles on and off campus. Whether he was studying abroad in Limerick Ireland or completing internships at Altec Industries and Textron Aviation, Croghan has demonstrated leadership in many ways.
Croghan is currently the ACACIA Fraternity president, has served as Student Government senator for the College of Engineering, and as an AirISU build team lead. Croghan also served as a departmental teaching assistant for undergraduate students in Industrial Engineering 248: Engineering System Design, Manufacturing Processes and Specifications.
Additionally, Croghan co-authored and presented a peer-reviewed proceedings paper at the Annual Conference for Institute of Industrial and Systems Engineers (IISE) in May 2017 with Min and John Jackman, an associate professor of industrial and manufacturing systems engineering. Croghan's integrative work on the effective measurement of Geometric Brownian Motion of theory and practice was noted by a team of conference referees.
---
Outstanding Seniors named for Fall 2017:
Allison Sandlass, aerospace engineering
Andrew Primmer, agricultural engineering
Lauren Jorgenson, biological systems engineering
Anna Sacchetti, chemical engineering
Heli Felix-Nascimento, civil engineering
Kyle Fischer, computer engineering
Dakota McClelland, construction engineering
Sarah Huber, electrical engineering
Bryce Thoeny, materials engineering
Cole Tenold, mechanical engineering
Jordan Lawrence, software engineering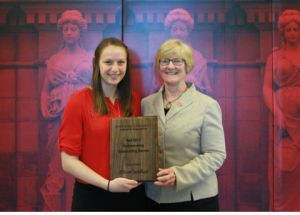 Allison Sandlass, an aerospace engineering major from Delano, Minnesota, will also graduate with a minor in nondestructive engineering. During her time at Iowa State, Sandlass held three different internships—at HUSCO, Pratt & Whitney and Boeing. She made the Dean's List each semester of college, was in the top 2 percent of engineering students at the end of every academic year, and was a part of Sigma Gamma Tau Aerospace Engineering National Honor Society. Sandlass was also a member of Iowa State's solar car team, PrISUm, and its Sun Grand Prix 2015 Championship. In her classes, Sandlass has served as a grader, a tutor, and has been a teaching assistant for an astrodynamics course.
After graduation, Sandlass plans to move to the Los Angeles area to work for Boeing Satellite Systems in research and technology in the materials processing group.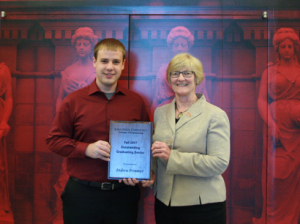 Andrew Primmer, an agricultural engineering major from Ames, Iowa, will be graduating with an emphasis in power and machinery engineering. Balancing academics with activities, he was a part of the Iowa State's marching band, the Eaton Jones House Council, and served as a tutor. He studied abroad in Brazil during the summer of 2014, held three different internships during his time in school, and conducted an honors research in a project entitled "The Application of Magnetic Filtration on Hydraulic Oil." Primmer was also a research assistant, helping create new hydraulic trainers to be used in the Danfoss Fluid Power Teaching Lab.
After graduation, Primmer will work at RFA Engineering in Cedar Falls, Iowa, as a test engineer, working on John Deere tractor components.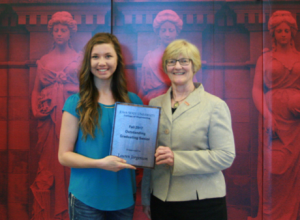 Lauren Jorgenson, a biological systems engineering major from Andover, Minnesota, spent much of her time outside of class in leadership and volunteering positions while at Iowa State. Jorgenson was a team leader for Destination Iowa State and a student leader with Navigators Campus Ministry. Jorgenson was also a member of both Tau Beta Pi and Phi Kappa Phi honor societies and held internships with Grain Millers Inc. and PepsiCo Frito-Lay.
After graduating with great distinction, Jorgenson will move to Tennessee to launch a job search in the area of food engineering.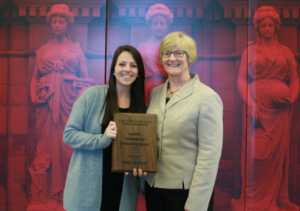 Anna Sacchetti, a chemical engineering major from Hastings, Minnesota, will be graduating with a minor in biomedical engineering this semester. Throughout her time on campus, Sacchetti was active with groups such as Tau Beta Pi, the American Institute of Chemical Engineers (AIChE), and the Biomedical Engineering Society, where she served as president. She also served as a peer mentor in the department in a first-year learning community. Sacchetti had numerous co-op and internship positions, including with CIVCO Medical Solutions and Merck.
After graduation, Sacchetti will be working at Merck as a manufacturing engineer in Elkton, Virginia.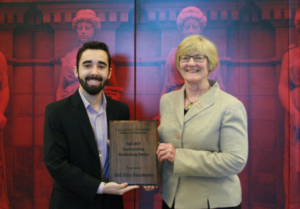 Heli Felix-Nascimento, a civil engineering major from Aracaju, Brazil, received many awards during his time at Iowa State. As an international student, he was awarded several scholarships: the International Students and Scholars Office Scholarship, the Global Scholars Award, and the International Student Ambassador Gold Scholarship—the highest merit scholarship available for incoming international students. He has also been a member of several student and professional groups, including the American Society of Civil Engineers (ASCE), the International Student Matriculation Fee Committee, ISU International Student Ambassadors, and the Green Energy Challenge Team. Felix-Nascimento held three internships with the Walsh Group. He was also a peer mentor in the civil engineering learning community and spent much of his free time volunteering with the Boys & Girls Club of Story County.
After graduation, Felix-Nascimento will spend some time in Brazil with family and then move to Denver to work for Mortenson Construction.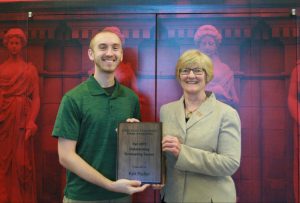 Kyle Fischer, a computer engineering major from Cedar Rapids, Iowa, was active in many organizations as an undergraduate. He served as a peer mentor for a freshman problem solving class and as a lab teaching assistant in third-year courses for computer engineering. Fischer also stayed busy by participating in groups such as the FIRST Lego League, Iowa State concert bands and the ISU Rifle and Pistol club, in which he was vice president and treasurer. He also has his amateur radio license, is an Eagle Scout, and has done two internships for Rockwell Collins.
Fischer is enrolled in a concurrent graduate school program here at Iowa State to earn his master's degree in software engineering.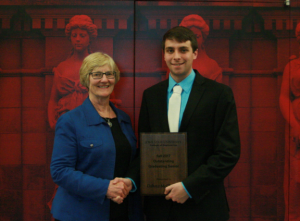 Dakota McClelland, a construction engineering major from Waukee, Iowa, received several awards and honors while at Iowa State. He was a member of Tau Beta Pi and Sigma Lambda Chi, the construction engineering honor society, and was regularly on the Dean's List.
McClelland has been a member of Habitat for Humanity since freshman year, for which he has served as treasurer. He has also served as treasurer and president of Sigma Lambda Chi. McClelland has held internships EES Companies, Ryan Companies, and twice with Turner Construction Company. He has also served as a tutor and peer mentor for the construction engineering learning community.
After graduation, McClelland will be working in Omaha for Turner Construction as a commissioning engineer. He will help to build a large data center for Facebook and will be responsible for commissioning mechanical and electrical equipment.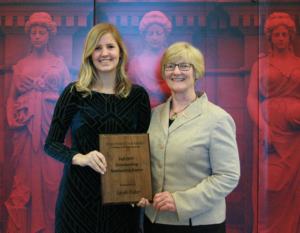 Sarah Huber, an electrical engineering major from Bettendorf, Iowa, is very committed to service to her profession and Iowa State. Huber has been in several prominent leadership roles, including Engineering Career Fair Co-Chair. Huber also created a website to help connect incoming female engineering students at Iowa State with an upperclassman student, faculty, or industry mentor that share similar interests and/or backgrounds, and she was recognized with the Digital Women Hack-a-thon By Women for Women prize for her efforts. She has completed internships with Texas Instruments, IBM Systems Group, and John Deere.
Huber will be working for Tesla in Palo Alto, California, as a power electronics program manager after graduation. She will be working with electronic vehicles, superchargers, and solar city systems across many engineering teams to produce these products.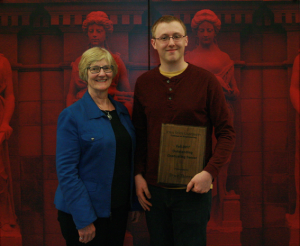 Bryce Thoeny, a materials engineering major from Coralville, Iowa, will graduate with minors in nuclear engineering and German, all while making the Dean's List each semester. Thoeny is a member of Tau Beta Pi, and has obtained extensive research experience by working at the U.S. Department of Energy's Ames Laboratory for almost three years. While there, he has been involved in a NASA-funded project involving solidification studies under zero-gravity conditions. This past summer, he also held an internship at the Marshall Space Flight Center.
After graduation, Thoeny will be participating in the Science Undergraduate Laboratory Internships (SULI) program at Ames Laboratory, and then plans to pursue a master's degree in materials science at Iowa State.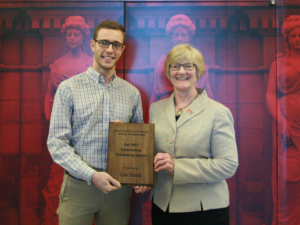 Cole Tenold, a mechanical engineering major from Perry, Iowa, has held many leadership roles while at Iowa State. Since November 2013, he has worked for Iowa State Admissions as a Cyclone Life blogger and in 2016 he interned with John Deere, working as a manufacturing engineer.
Tenold discovered a life-long passion for the Chinese language during his time at Central Products of Tianjin from July 2014 to November 2014. He then began his pursuit of mastering Mandarin Chinese, while working as a quality engineer. Tenold studied abroad at Lanzhou Jiatong University in China, where he was awarded a full scholarship to assist in his goal of learning Chinese. Back at Iowa State, Tenold became a founding member of the Chinese Language Club, was a student leader for the ISU Navs, and was a member of the winning Kaleidoquiz team in 2015.
Tenold will begin working for HUSCO International in Waukesha, Wisconsin, as a design engineer after graduation. He will be developing hydraulic control valve solutions for the Asian off-highway equipment market.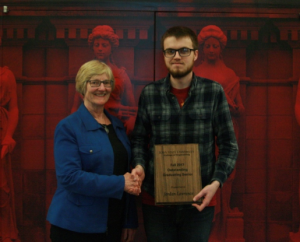 Jordan Lawrence, a software engineering student from North English, Iowa, excelled in academics, took the opportunity to study abroad and also completed multiple internships. During his time working with General Dynamics Information Technology, he built applications for internal use, worked with a variety of programming languages, wrote plugins for existing applications, and contributed to the agile development process. He also served as an intern for EMC Insurance as a software testing intern. In 2016, Lawrence broadened his horizons by traveling to England to study abroad at the University of Exeter.
After graduation, Lawrence will be working at General Dynamics Information Technology (GDIT) in West Des Moines as a software engineer.