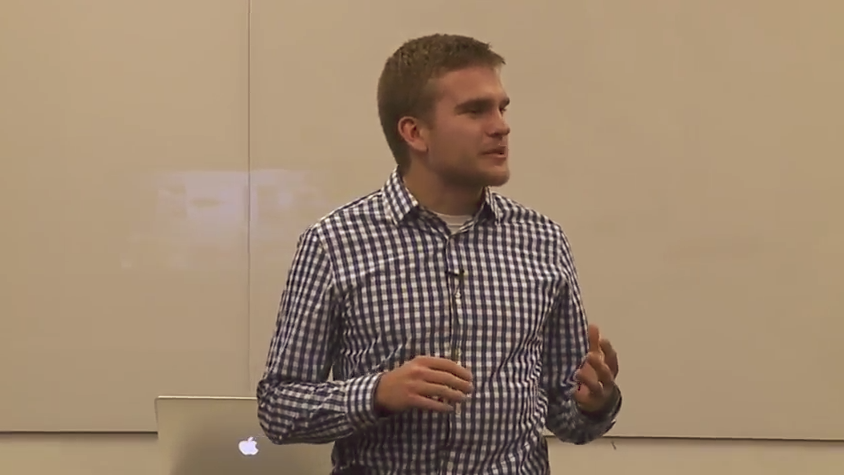 A mechanical engineering graduate student bested 42 of his peers to take first place at Iowa State's second annual 3 Minute Thesis competition on Monday.
Alex Wrede, who is pursuing a PhD in ME, discussed Traumatic Brain Injuries (TBIs) and the cavitation of micro bubbles during the competition which was hosted by Iowa State's Graduate College.
"My research focuses on creating a realistic model that illustrates the consequences that microbubbles have on neurons in a TBI situation," said Wrede. "Answers in my research seek to address not only athletic injuries, such as football, but also ties to TBIs that our veterans experience, someone who gets a TBI in something like a car accident, and even someone who might slip on the sidewalk and hit their head."
Contest participants have no more than three minutes and just one PowerPoint slide to explain their research to a "non-specialist audience." Participants presented to a panel of judges which included Board of Regents member Nancy Boettger, Ames Mayor Ann Campbell and Des Moines Register columnist Kathie Obradovich.
Wrede, who works in the lab of ME assistant professor Nicole Hashemi, will receive a $500 cash prize and an all-expenses paid trip to the Grand Rapids, Michigan in April for the annual conference of the Midwest Association of Graduate Schools. He will also be entered to participate in the Regional 3MT Competition.
"I am humbled to get first place at the 3MT competition. There was a lot of great research presented at the event and many of these speakers also deserve recognition. I would like to specifically thank my professor, Dr. Hashemi, for advising me through this project," Wrede said.