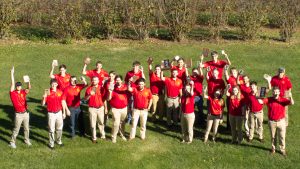 Engineering students uphold winning tradition while teaching team skills
"Our success or failure entirely depends on how we work as a team," says Michael Feste, a junior in construction engineering.
That statement could not be more true. For the past two years, Feste has been a part of Iowa State University's Associated Schools of Construction (ISU ASC) Competition Team. Specifically, he has been on a winning Commercial Division Team.
ISU first competed in the ASC Region IV Construction Management Student Competition in 1994. Since that time, ISU ASC teams have placed first 47 times. This year, four ISU teams competed in four separate divisions: commercial, design-build, heavy-highway, and specialty-electrical.
Results are as follows:
Commercial: 1st place
Design-build: 1st place
Heavy-highway: 3rd place
Specialty-electrical: 2nd place
"In the end, those seventeen hours that we're spending together in a room is where all the team building occurs," Feste says."We do some work beforehand, but you really realize how well you work as a team in the competitions."
Eanan Gidley would back up Feste on these statements. Gidley is a senior in construction engineering. He was a captain of the ISU Heavy-Highway Team. The answer you will get when you ask Gidley whether there were any returning members to his team this competition? "Zero." So this year was a rebuilding and learning year for both Gidley and his team.
"We had to take a step back, to make sure that everybody got their feet wet and that everybody had a good idea of what was going on," he says.
When you get an assignment at competition, your team only has about 18 hours to complete the task. Depending on your division, you could be designing an interstate ramp or drafting ideas for a data center (two examples from this year's competition).
You then present your work to a panel of judges. This is where both Gidley and Feste say communication skills are tested. Just like real life, the presentation (and not just the idea itself) can make a difference between a win and a potential loss.
"It's not always that you have the best answer, but that your answer is explained in the best way, is shown in the best way, and the owner can understand it and can talk with you," says Gidley.
Overall, both students say the competition is a trial by fire — just like a day on the job. "It really is everything you will do at work," Gidley adds.
Construction Engineering Senior Lecturer Larry Cormicle is the faculty advisor of the ISU ASC Competition Teams. He has advised the teams for the past 16 years.
---
Keep up on the exciting achievements of student organizations like ISU ASC Competition Teams by following us on Facebook, Twitter, and LinkedIn (Iowa State University Civil, Construction and Environmental Engineering and ISUConE).
 Teams are (from left to right): specialty-electrical, commercial, design-build and heavy-highway.