Outreach and teaching to students in grades K-12 has been a priority in the materials science and engineering department as it aligns with and is encouraged in our university mission and vision. These are respectively: To create, share, and apply knowledge to make Iowa and the world a better place, and Iowa State will lead the world in advancing the land-grant ideals of putting science, technology, and human creativity to work.
Educating youth about materials science and engineering is most commonly done through the materials science demonstrations provided by the Material Advantage student organization. These demonstrations give fun, hands-on lessons about properties and characteristics of different types of well-known materials. The undergraduate materials engineering students give the demonstrations in schools across the state of Iowa. Visits to the department to meet faculty and see current research and technology are encouraged too.
Professor Shan Jiang understands the importance of sharing his passion for science, technology, engineering, and math (STEM) with younger students to increase participation in these disciplines. In September and October, Jiang, Assistant Professor in the Department of Materials Science and Engineering, welcomed three groups of students to the department to learn about opportunities available at Iowa State University, specifically in materials science and engineering. Those students were visiting from Des Moines Education without Borders and the Iowa State Science Bound program.
Jiang said, "I care about the future of science and engineering. Attracting young talent and educating them about opportunities in STEM is the best way to carry out science and engineering research sustainably."
The Des Moines Education without Borders students visited on September 11, 2017 and October 7, 2017. These 40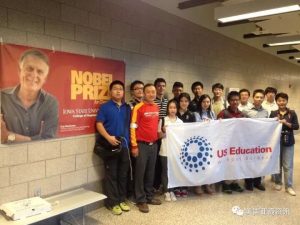 students were international high school students from China that had an interest in attending Iowa State University in the future.  Des Moines Education without Borders is a program that allows international students to attend high school in the United States. These students have the opportunity to live with an English speaking host family, experience the United States' education system, gain perspective on higher education and a competitive advantage helping them to become more marketable in their native country. MSE graduate student, Jenny Li, presented to the students about her high school experience as an international student in the United States and the journey of choosing materials science and engineering at Iowa State to earn her doctorate degree. MSE postdoc, Fei Liu, and MSE graduate student, Yifan Li, helped host the tours of the department and labs.
The second group of twelve students visited in partnership with the Iowa State Science Bound program on September 23, 2017. These students were local minority students in grades 8-12. Science Bound is Iowa State's pre-college program established in response to the National Science Foundation's call to increase young people in underrepresented populations to participate in science or technical careers. The students in Science Bound are from Des Moines, Denison, and Marshalltown, Iowa.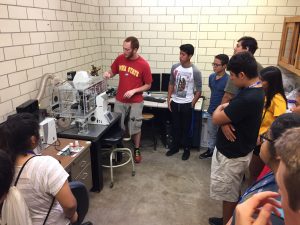 Jiang and students in his research group gave the students an introduction describing what materials science and engineering means. Dr. Jiang gave a demonstration of polymers using Silly Putty®. MSE graduate student, Kyle Miller, talked to students about the equipment in the department and MSE undergraduate students, John Henjum and Yasmeen Mansoorieh, also helped organize the event. They gave lab tours in both Hoover and Gilman Halls. To help demonstrate relevancy and practicality of the field, they gave a microscopy demonstration in Dr. Jiang's lab by looking at their own strands of hair under the Scanning Electron Microscope (SEM).
All three groups of students gave very positive feedback, and they shared their excitement towards the field and Iowa State. Many of them wanted to revisit the campus in future.
Dr. Kristen Constant, MSE Department Chair, commented about Jiang's outreach efforts. She said, "It is great that Professor Jiang is reaching out to these young people.  Even though we all use materials every hour of every day, most people don't recognize that it is an actual discipline that can become a career."
Jiang said, "I was most impressed by the large amount of interest in science and engineering. These events helped the students understand that materials science and engineering is relevant to everyday life."
If there is an interest in learning about materials science and engineering through demonstration or lab visits, contact Scott Chumbley, Associate Chair of Undergraduate Education in the Department of Materials Science and Engineering.