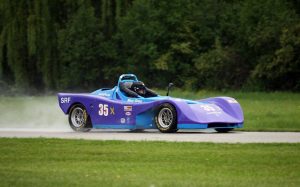 Go faster and win. Those are the goals of materials engineering student, Max Grau. Racing, speed, and competitiveness are in his blood. It's a family tradition and a hobby that has inspired a few of his decisions while pursuing his adventure at Iowa State University.
Grau, a freshman from Davenport, Iowa, participates in amateur Sports Car Club of America (SCCA) road racing, a thrilling hobby that was inspired by his parents. His interest in racing has been a natural fit. His parents are alumni of the Department of Mechanical Engineering at Iowa State and were founding members of the SAE Formula One team. His parents were formula one racers, and they instilled a passion for speed in their son.
The first racing that Grau participated in was go-kart racing when he was eleven years old. As he grew and became a more experienced go-kart driver, he wanted a change and new challenge. He raced go-karts with his dad for three years before making the move to solo road racing. After his first year of racing, Grau won Rookie of the Year in the Great River Region. He is now in his third year of road racing.
Grau is a member of the Sports Car Club of America, a national road racing community. The members of SCCA pa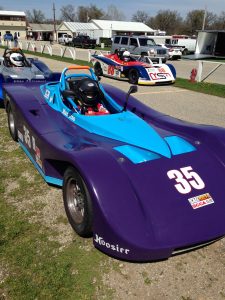 rticipate in a variety of racing events throughout the country. The organization is divided into regions, road race levels and series, and car classes. Grau has participated in the Regional and Major levels. The Major level is limited to Runoffs-eligible classes. These events tend to be a little more intense, and often drivers come to match up with the highest competition and to qualify for the champion-crowning SCCA Runoffs. The Runoffs are the prime event for SCCA racers because it serves as a gathering for the top SCCA racers in the country.
SCCA also breaks up road racing into classes according to the car type. Grau races in the Spec Racer Ford class. This means that all cars in his class are made of the same type and model using the same parts. His car is an open-cockpit sports racer. Setup knowledge should be the key factor to winning the race.
So, what does the race consist of? A spec class road race is thirty minutes long, and there are 20-30 cars competing on one track. The track has many left and right turns and is made of asphalt. There are races all across the country, but Grau competes regionally within the Midwest. After each race, points are earned, and the number of points earned allow the racers to potentially race at the highest national level, the Indianapolis Runoff.
Grau has competed for the second time at the national level at the Indianapolis Runoffs which were September 23-October 1. He raced against 72 other cars at the same time.
Grau says his first goal is to finish the race and the second goal is to win. It's as simple as that.
"When you race, you can't think and you must trust your reaction," said Grau. "It's a challenge to remain at such a high speed for that length of time."
To help Grau improve at getting faster, he analyzes his numbers. He said, "Data is huge in racing. I analyze data on everything- steering angle, throttle position, brake position, oil temperature, water temperature, fuel pressure, speed, etc."
"If I could turn racing into a profession, I would take that opportunity immediately," said Grau. In the meantime, he remains a student in the materials engineering program.
His inspiration to come to the materials engineering program stemmed in part from his passion for racing. Part of racing involves understanding what materials the car is made of and learning to adapt parts to make it better and faster. He has always been interested in numbers and data and enjoys finding solutions to problems- especially when it comes to improving his racing skills. His interest in analyzing data has encouraged him to pursue a data science minor as well.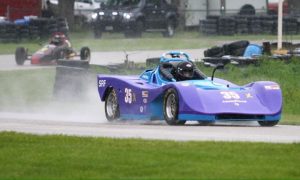 Grau is embracing his first year as a materials engineering student by participating in the Material Advantage student organization. Through this club, he has had the opportunity to assist the SAE Formula team as the "materials guy" to help improve their fiberglass bodywork.  Grau has plenty of experience working with fiberglass, the material that the body of his own road racing car is made from.
Grau is also a member of the GENRE (Gathering Everyone Nearby to Raucously Entertain) club which is a music club at Iowa State.
Grau is continuing to find his place and build his adventure at Iowa State by connecting hobbies he enjoys outside of the classroom to impactful learning experiences inside of the classroom, too. As a freshman, his Iowa State adventure exploring racing, data, and materials has only just begun, and we look forward to seeing where it takes him in the future.