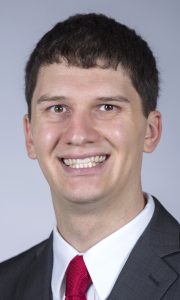 Luke Roling is happy to bring the power of computational analysis to his undergraduate alma mater. And even happier to do so with what was "just a dream job" not many years ago.
Roling will begin his first faculty appointment when he becomes an assistant professor in Iowa State's Department of Chemical and Biological Engineering (CBE) for the spring semester of the 2017-18 academic year. Roling, originally from Clinton, IA, who received his B.S. from the department in 2011 (along with a second B.S. from ISU in mathematics), will offer expertise in the research and teaching area of computational catalysis – which has as its goal the design of chemical engineering catalysts entirely from a computer. Roling's research will use state-of-the-art computational chemistry toolkits along with high-performance supercomputing to understand how chemical reactions occur at the atomic scale. As chemical engineering research goes, it is a field that is still very much in its youth.
"When I left Iowa State, I didn't realize what a good research fit it would end up being here. But then I came to realize that it is a perfect fit for me," Roling said, acknowledging the research in his area that Iowa State CBE is now engaged in: "A lot of complementary research here came in right after I graduated, with professors like Jean-Philippe Tessonnier, Wenzhen Li and Matthew Panthani adding to existing complements such as Brent Shanks."
One of his main research interests has been heterogeneous catalysis and alternative energy. The seminar he presented as a department faculty candidate was entitled "First-Principles Design of Fuel Cell Catalysts with Reduced Platinum Dependence," which discussed using computational design to develop more cost-efficient fuel cells.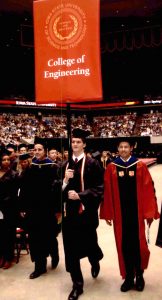 After receiving his B.S. from Iowa State, Roling ventured to the University of Wisconsin-Madison to pursue a Ph.D. in chemical engineering and became part of the Computational Surface Science and Catalysis Group led by Professor Manos Mavrikakis. It was there he began to fully appreciate the power of computation in scientific processes. "Our collaborators were doing experiments that had been going on for probably ten to fifteen years. The research group I was in thought there might be an opportunity to develop better materials and do so in a much faster time period. Experiments can be very labor intensive. With computations you can analyze hundreds of factors in a matter of days and select the best candidates for evaluation. You become more efficient by doing experiments on only the best candidates."
Since receiving his Ph.D. from Wisconsin, Roling has been working as a postdoctoral scholar with the SUNCAT Center for Interface Science and Catalysis at Stanford University, which explores challenges associated with the atomic-scale design of catalysts for chemical transformations of interest for energy conversion and storage.
As an undergraduate at Iowa State Roling was elected student body president in his senior year and was also chosen as the student marshal representing the College of Engineering in the 2011 spring commencement ceremony. He selected CBE professor Eric Cochran as his faculty escort because of his influence on Roling's development as a student.
Roling said it is a bit of a mental adjustment returning to Iowa State as a colleague to professors he studied under just a few years ago, including Cochran, who he had for two classes; and Reginald R. Baxter Endowed Department Chair Andy Hillier, who he also had for a pair of classes as an undergrad.
Roling's wife Katie (Hughes) is also an ISU alum, having graduated with a B.S. in psychology in 2012.