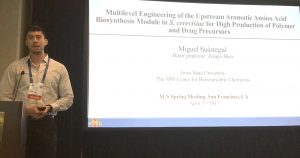 Dr. Miguel Suástegui, who received his Ph.D. in chemical engineering from Iowa State in May of 2017, has been honored for a research presentation at a recent national conference.
His talk at the April 2017 American Chemical Society National Meeting in San Francisco was awarded "Best of BIOT" by the Division of Biochemical Technology (BIOT). The talk, entitled "Multilevel engineering of the upstream module of aromatic amino acid biosynthesis in Saccharomyces cerevisiae for high production of polymer and drug precursors," (abstract here) was judged worthy of the award by peers at the conference.
Suástegui has been invited to have his presentation featured in a "Best of BIOT" webinar series that will take place this fall.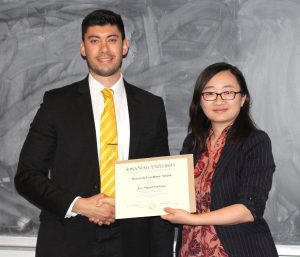 The research was also published in Metabolic Engineering in mid-June. It was carried out when Suástegui was working toward his doctorate in the research group of the Department of Chemical and Biological Engineering's assistant professor and Jack and Carol Johnson Faculty Fellow Dr. Zengyi Shao, whose group focuses on engineering various high-performance microbial chassis to produce value-added compounds.
Prior to his graduation Suástegui received one of the department's Research Excellence Awards and Graduate and Professional Student Senate Research Award for the project. The project was supported by NSF Center for Biorenewable Chemcials (CBiRC).
Suástegui is now a postdoctoral researcher at the Wyss Institute for Biologically Inspired Engineering at Harvard University.