ISU CCEE GOLD stands for the Iowa State University Department of Civil, Construction and Environmental Engineering (ISU CCEE) alumni group Graduates Of the Last Decade (GOLD). In the weeks leading up to its annual Zoo Brew at the Blank Park Zoo, ISU CCEE GOLD members will be featured in spotlight segments. ISU CCEE GOLD Zoo Brew will be held on August 16 from 5:30-9:00 p.m. at the Blank Park Zoo in Des Moines, Iowa. REGISTER for ISU CCEE GOLD Zoo Brew by emailing ISU CCEE Outreach Coordinator Jean Dubberke at jeand@iastate.edu.
---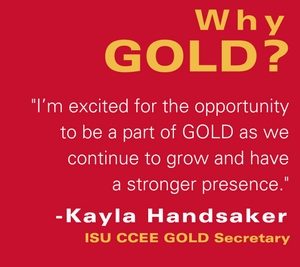 GOLD member: Kayla Handsaker
Graduation major and year: B.S. in construction engineering, 2012
Position in GOLD: Secretary
Job title/employer: Project Manager at Ryan Companies
Reason you got involved with ISU CCEE GOLD
"I had been looking for an organization outside of the Ryan volunteering events to get involved in for a while and hadn't found anything that interested me, until I found GOLD! I'm excited for the opportunity to be a part of GOLD as we continue to grow and have a stronger presence with the CCEE department and recent CCEE alumni."
Best part of being in ISU CCEE GOLD
"There are so many great things about GOLD! Being a part of GOLD continually grows my network of CCEE friends and professional contacts, lets me assist recent alumni as they transition from students to young professionals, and allows me to support the CCEE department that developed my skills and knowledge, which led to the professional success I have today."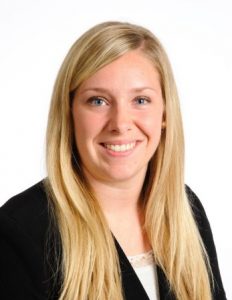 Top advice you would give to engineering students
"Spend as much time on the job site as you can and don't be afraid to ask questions. This is where you learn the most about how projects are actually built."
---
You can find out more about Zoo Brew by visiting our ISU CCEE GOLD Zoo Brew event on Facebook. If you are interested in getting involved with GOLD, contact ISU CCEE Outreach Coordinator Jean Dubberke at jeand@iastate.edu.