Iowa State University alumnus Michael D. Brady has been inducted into the Department of Chemical and Biological Engineering Hall of Fame. He was honored as part of the department's recent Awards Banquet.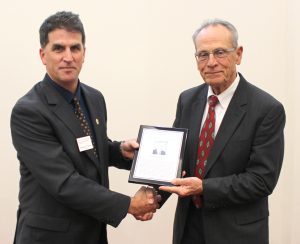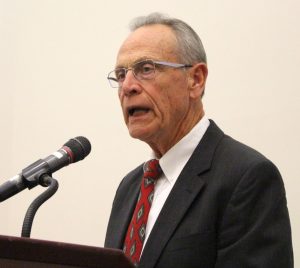 Dr. Brady earned a B.S. in chemical engineering from Iowa State University in 1965. He then went on to earn a Ph.D. at Oregon State University in 1969 before embarking on a distinguished career that saw him work for some of America's largest and most influential companies, with process and materials analysis and innovation characterizing his career at 3M, Imation (a business spun off from 3M), Corning Glass and in consulting work. At 3M he invented trade secret processes for coating water based adhesives and fused coating on carpet fibers; worked in processes for reflective highway signs, X-ray film and screens and with color proofing materials for printing. At Corning Glass he was involved in both trade secret processes as well as patented processes invented in the areas of cellular ceramics for automotive catalytic converters and diesel particulate filters, print heads for high density printing for DNA analysis, coating materials for ultra-thin glass for TV and computer screens as well as hand held devices. He holds more than 20 patents worldwide and many of his trade secret processes are still being practiced.
As an undergraduate he was vice president and programs chair for the ISU student chapter of the American Institute of Chemical Engineers (AIChE) and organized the 1965 Midwest Student Chapter Meeting and Symposium. He has continued his involvement with AIChE and has been a member for more than 50 years.
While at 3M Brady continued his connection with Iowa State by arranging guest appearances from many ISU chemical engineering professors and also interviewed and helped hire many chemical engineering, electrical engineering, chemistry and physics graduates of Iowa State. He was involved with establishing the National Science Foundation Coating Center of Excellence at the University of Minnesota, as well as the Microelectronics Center at Iowa State.
Brady spoke to the audience at the CBE banquet, in a presentation entitled "No Career Involves Only One Person." He was presented with an honorary plaque and a similar plaque in his honor has been placed on the Department of Chemical and Biological Engineering Hall of Fame wall in the lobby of Sweeney Hall.
Gayle Roberts, president and chief executive officer of engineering firm Stanley Consultants, a fellow ISU chemical engineering alum (B.S.'81) was also inducted into the CBE Hall of Fame, but was not able to attend the ceremonies. She will be honored at a later date.