Rachael Barnes sees first-hand the impact, importance of agriculture in Uganda.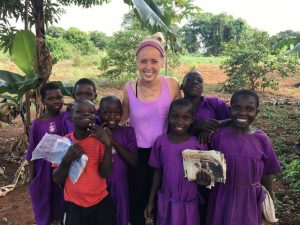 For six weeks of her summer, Rachael Barnes, a senior in biological systems engineering, completed a service learning, study abroad program located in Kamuli, Uganda, as part of Iowa State's Uganda Program.
Barnes, who served Jamaican communities on the Greek Alternative Spring Break trip her sophomore year, knew she wanted to travel again for a longer period of time to help others. When she heard about the Uganda service trip through women in her Alpha Delta Pi sorority, she says it was a perfect opportunity.
Once she arrived in Uganda, she started working in the school garden program for schools in the Kamuli District and tried to improve grain storage to preserve the maize better.
"The grain, specifically maize, is stored and used in the school feeding program," Barnes said. "The maize is not being properly stored, which is causing near 50% post-harvest loss, ultimately meaning they are losing more than 50% of their original corn crop. The corn is being affected by insects (weevils) and mold."
Since Barnes is a biological systems engineering major at ISU, she was able to simplify the engineering practices in use for the grain storage and is continuing to help the community through researching the best grain store management.
Her work is critical for the area, because the food grown in the garden is used for school lunches and is usually the only meal the children eat a day.
"A few of the projects in the gardens include digging orange flesh sweet potato mounds, digging three feet banana holes, planting banana pseudo stems and weeding grain amaranth," Barnes said. "I absolutely loved working in the gardens, and often times, the students came out to join us, and they were able to learn about agriculture in a hands-on way."
Barnes learned how much of an impact agriculture has on a community, and she says having a plan and system in place to make the process function efficiently and effectively could ultimately feed the world.
"Each of my ideas had to not only focus on its effectiveness but had to focus on working with the current culture," Barnes said. "We cannot go into the community and force technology on them to solve their problems. We must understand their culture and their process, and work side by side with their community to solve a problem together."
Barnes says the community in Uganda was very relaxed, and since there is not technology, the community often came together to have conversations and spend time together.
"All of the community members I had a chance to work with were so grateful for the work we were doing and never stopped reminding us of how we had impacted their lives," Barnes said. "I wish we could bring that here to our culture. Even when we are appreciative, we often don't express our gratitude."
She is happy she was able to serve in Uganda, and her hopes are to continue helping people.
"One of our professors, Dr. Schultz, said 'We must do all that we can to make the world a smaller place,' and that is what I will strive to do today and every day after," Barnes said.
Learn more about the service learning, study abroad trip happening next summer.