Construction engineering students get hands dirty while learning from industry partners
Julie Penton has built a campanile.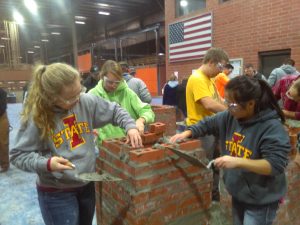 No, we're not referring to the Campanile on Iowa State University's (ISU) campus. Penton's campanile stood five feet high. She only had 20 minutes to build it. And participation went toward credit in a class lab.
Last month, Penton, a junior in construction engineering (ConE), and fellow classmates spent a day at the Masonry Institute of Iowa's (MII) Masonry Student Field Day. The group of 45 students from ISU's ConE 241: Construction Materials and Methods course traveled to Des Moines and surrounding areas to tour construction sites, a block plant and a brink plant.
"In class, you don't really see how the machines work. You don't see the process," Penton said.
Seeing that process in action draws students into the day-long event. Senior Lecturer Brad Perkins teaches ConE 241. The class is a choice time to participate in MII's masonry activities. From wood to brick to concrete, students are learning construction material basics in the course. For almost ten years now, Perkins has taken students to the field day.
"You can learn more from an event than you can sitting all day reading a book about it," Perkins pointed out.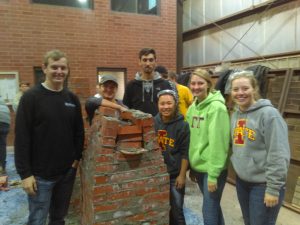 To put knowledge into practice, students got a chance to do original construction work. During a timed competition, groups of six were assigned the task of creating a campanile. Each group was split in half—three students building the foundation, three students designing the top of the structure.
"My favorite part was actually doing the work," Penton said, describing her group's replica of Iowa State's most iconic landmark. "I am a girl who likes to actually get in and get her hands dirty."
The activity is meant to spark creativity and test prior learning.
"It's hands-on," Jenny Stephenson, MII's associate director, said. "You see it first-hand and get to experience it. It really puts all those elements that [students] have been learning in the classroom together."
Though Penton's campanile didn't last – "At the last second, it just went tumbling down," she admitted – appreciating each job involved in construction was an important takeaway, and one that Perkins hopes to impart to his students each semester.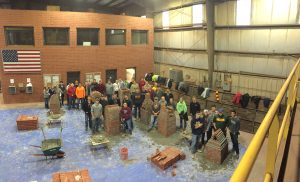 "When they leave here, they're going to be managers," he said. "A good appreciation for what it takes to be the laborer is a good healthy bit of the practical side of education."
---
ConE 241 students participate in MII's Masonry Student Field Day during either the fall or the spring semester. This year, students attended the fall field day on Oct. 13 and toured Rhino Materials (West Des Moines), United Brick & Tile Company (Adel, Iowa), and Confluence on 3rd urban development (Downtown Des Moines). Check out more photos from the day's events.
Have questions about classes at ISU CCEE? Contact our advising staff to schedule an advising appointment. And make sure to follow us on our website (ccee.iastate.edu) and on Facebook, Twitter and LinkedIn (Iowa State University Civil, Construction and Environmental Engineering and ISUConE).