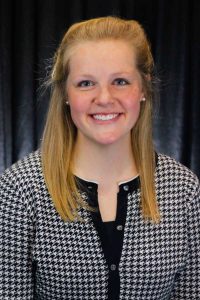 About the author: Allison Cargill is currently a mechanical engineering graduate student at Iowa State University working on biosensor development. She is originally from Cincinnati, Ohio, and completed her undergraduate degree at Purdue University. Allison moved to Ames in 2014 for graduate school and is a third generation Iowa State engineer. 
What comes to mind when you think of Iowa State? If you are like many people in the Ames, Iowa community that Iowa State calls home, you may think of Cyclone basketball, Hilton Magic, VEISHEA, or the increased traffic that comes with August move-in. But Iowa State University actually has much more to offer the community than a strong athletic program and a large student population.
Iowa State University is home to some of the most innovative, ground-breaking research in the world, particularly in the areas of materials science, agriculture, and engineering. In the fiscal year of 2015 alone, Iowa State attracted more than $200 million in funding directed towards research, and the university is home to nearly 100 research centers and institutes covering almost every field imaginable. In fact, Iowa State is the only university in the country that includes a U.S. Department of Energy research laboratory on its campus. Even with such phenomenal resources on its campus, many Ames residents do not have direct ties with the university or knowledge about – much less involvement with – ongoing research.
To bridge this gap between the local community and the university, I decided to start a program aimed at educating the Ames community on exciting research happening at Iowa State. The program, called "Knowledge on Tap," is formatted in monthly seminars that consist of a dynamic 30-minute presentation followed by a question and answer session and the chance to interact with prototypes, as applicable. The talks are designed so that anyone – from kids to adults – can understand the topic and its applications. In particular, I hope that presenters can frame their research in the context of living in Iowa, so the audience can relate as much as possible.
I can't take credit for developing this idea on my own. Science Cafes, "Nerd Night" talks, Café Scientifique, and many other programs of this nature exist around the world. However, I wanted to create something specific to Iowa State and the Ames community and found that there was currently nothing like this available.
When I designed the event, I wanted to be sure the venue was accessible, friendly and welcoming, and appealing to the average community member. The first place that came to mind was Torrent Brewing Co. in downtown Ames, and when I reached out to the owner, Andy, he was happy to donate space for the event.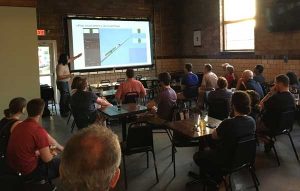 "Knowledge on Tap" launched with its first event on June 8, 2016. Dr. Baskar Ganapathysubramanian and his graduate student Daniel Stoecklein presented their work on microfluidic simulations in a talk titled "Healthcare Gamechangers: A Click Away" and even brought laptops with the interactive simulation so audience members could try it for themselves. Approximately thirty people were in attendance and the response was extremely positive, even though we had some technical difficulties setting up.
The next "Knowledge on Tap" event will be in mid-July and the topic is related to virtual reality; check the Torrent Brewing Co. Facebook page for updates. I hope to see you there! If you have ideas for a presenter from the ISU community, ideas for a topic, or general feedback, please feel free to contact me at aacargill@gmail.com.
More coverage of Knowledge on Tap:
http://amestrib.com/news/torrent-pairing-education-beer http://iowaepscor.org/news/2016/knowledge-on-tap