Leaky roofs, chipping paint … Jack Viverito paints a vivid picture of houses devastated by storms in Oklahoma City.
"You could just see, some of the houses were a complete mess," Viverito said. "You couldn't believe [people] were still living in them, when you look next door and [the house] is perfectly fine."
The construction engineering graduate says tornadoes from 2013 and floods from 2015 left homeowners without insurance to pay for damages. That's where Associated General Contractors (AGC) comes in.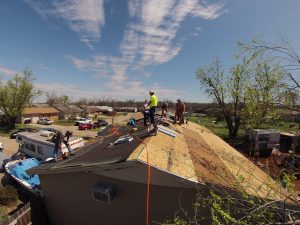 For years now, members of the ISU chapter of AGC have been trading in their fall and spring breaks for service trips. Viverito recently served as vice president of the group. He helped organize his seventh and final AGC break service trip.
"We worked for four days, sun up to sun down," Viverito said.
That work breaks down to a total of more than 1,200 hours of labor. Viverito added that 28 AGC members volunteered for the trip. The group built four houses: completing roofing projects, drywall projects and flooring projects between March 13-17.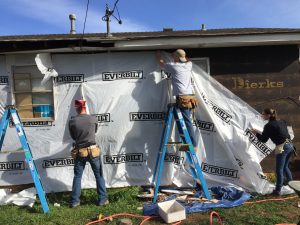 Senior Lecturer Larry Cormicle advises the group. He says it's critical to give students responsibility on the trips.
"The students find the area in need, and I let them organize it," Cormicle said.
It's just as important to have constant service opportunities.
"I think the opportunity for all our students is to learn how it feels to help another human being in a time of desperate need," Cormicle said.
Whether it's OKC, Eastern Tennessee or Central Illinois, Viverito says service trips are a staple of the AGC experience at ISU.
"We're always going to find something to do," Viverito said. "For every fall break and every spring break we can. We love it. We're just not going to stop."
Keep up with the latest CCEE Department student organizations by following us on Facebook, Twitter and LinkedIn.