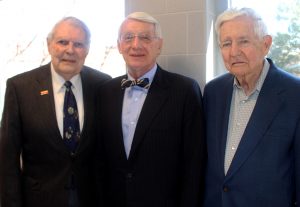 The Department of Chemical and Biological Engineering welcomed department alumnus the Honorable Charles F. Lettow, who has been honored as an Iowa State University Distinguished Alumni Award recipient.
Lettow, a native of Owasa, Iowa, who received a B.S. in chemical engineering from Iowa State in 1962, has had a distinguished law career, culminating with a presidential appointment to the United States Court of Federal Claims in 2003. There, his engineering background has been an important resource in addressing the Court's jurisdiction over technical claims, including those dealing with patent infringement and nuclear power.
As an undergraduate at Iowa State, Lettow served as president of the College of Engineering Student Council, president of the Student Chapter of the American Institute of Chemical Engineers and co-chair of the VEISHEA Open House Committee. His academic achievements included election to the honor societies Alpha Chi Sigma, the Knights of St. Patrick and Pi Tau Sigma. During his senior year, he held a highly competitive NSF undergraduate research appointment.
After receiving an LL.B. degree from Stanford University, his legal career began when he was appointed to serve as a law clerk for Judge Ben C. Duniway of the U.S. Court of Appeals for the Ninth District and later for Chief Justice Warren E. Burger of the Supreme Court of the United States. He then spent 30 years with the international law firm Cleary, Gottlieb, Steen and Hamilton, being named a partner after only three years. The United States Court of Federal Claims consists of 16 judges appointed by the President and subject to confirmation by the U.S. Senate.
In addition to many law profession activities, Judge Lettow has also been involved with higher education, including volunteering his services to Iowa State and Princeton Universities. Noteworthy at ISU was his selection in 2008 as one of four visiting scholars from government and industry to "develop graduates with leadership skills, appreciation for ethical behavior, technical and scientific expertise and an understanding of society's needs."
Judge Lettow has been active in numerous bar associations, often in positions of leadership. He has received major awards from the National State and Local Legal Center, the National Association of Attorneys General and the American Bar Association. In 2013, he was named to the inaugural class of the Alumni Hall of Fame in ISU's Department of Chemical and Biological Engineering.
He was joined in a department reception in his honor by daughter Dr. Renee Burnett Lettow Lerner, and sons Dr. John Lettow and Dr. Paul Lettow.