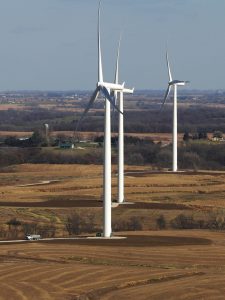 Des Moines-based utility company MidAmerican Energy completed a $3.6 billion initiative on April 14 to get 85 percent of its energy from wind. The company, which serves 752,000 electrical customers, won't need to increase customers' energy costs mostly due to federal production tax credits.
CEO Bill Fehrman says the company is hoping to deliver 100 percent renewable energy in the future, but Robert Brown, Iowa State professor of mechanical engineering and director of the Bioeconomy Institute, says the company still needs a strong base of fossil fuel generation to back up the wind generation. He highlights the need for utility-scale battery storage, smart grid improvements, and power plants utilizing biomass burning in order for 100 percent renewability to be possible.
To see the full story from The Des Moines Register, click here.