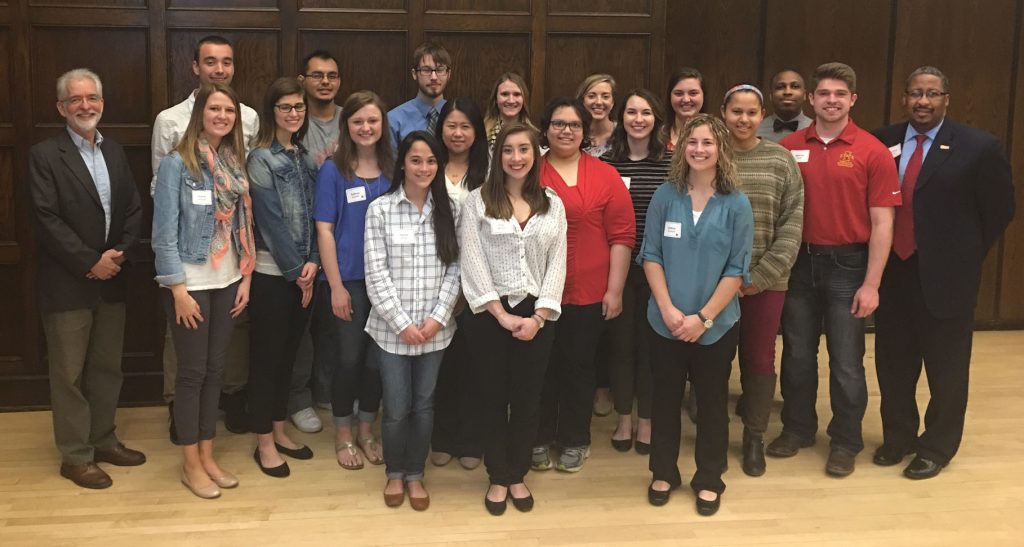 The recipients of the 2015-2016 Learning Community Exemplary Peer Mentor and Exemplary Peer Mentor Supervisor Awards were honored at the Learning Communities Peer Mentor Recognition Ceremony on Wednesday, March 30, 2016.
The purpose of the exemplary peer mentor award is to recognize and encourage outstanding achievement by peer mentors working with learning community students. The exemplary service award provides an opportunity for faculty, staff, and students to express appreciation for mentors who set positive examples for students and support the academic goals of Iowa State University.
A full list of the recipients can be found here.
2015-2016 Exemplary Peer Mentors
Sydney Butikofer – WiSE First-Year
Sheila Evans – Leadership through Engineering Academic Diversity (LEAD)
Raul Hernandez – Multicultural Transfer Students in STEM
Erin Kollar – WiSE First-Year
Erin Mitchell – WiSE First-Year
Lyndsie Perrenoud – Construction Engineering
Kendall Ryan – WiSE Transitions
Antoinette Serrato – WiSE First-Year
2015-2016 Exemplary Peer Mentor Supervisors
Carly Hughes – Women in Science and Engineering First-Year
Monica Lamm – Chemical Engineering First-Year