Angadbir Singh Sabherwal, a senior in mechanical engineering, and Kaitlyn Aldrich, a senior in civil engineering, will be named Wallace E. Barron Scholars for their remarkable achievements in academics and leadership. The Wallace E. Barron Award was established by the Iowa State University Alumni Association to recognize outstanding seniors who display high character, outstanding achievements in academics, and promise for continuing these qualities as alumni.
Angadbir Singh Sabherwal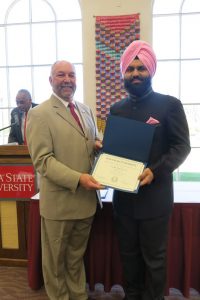 Singh grew up in Mohali, near Chandigarh, India, where his parents were immensely supportive of his goals, from his travels to Germany and China, to his journey to the United States. One of the reasons Singh came to Iowa State was due his father, who was originally set his sights on coming to Iowa State to study computer engineering, but in the end was not able to attend due to the genocide that happened against Sikhs in New Delhi in 1984. Originally, Singh had applied to more than 25 universities around the world, but when he was accepted to Iowa State, he knew it would be the university he would attend.
After considering a couple different degree options, Singh selected mechanical engineering because he says it has allowed him to work in almost every area he has been interested in over the years.
Being involved in many organizations has helped Singh create a broad network of friends and support. He has been involved as a community advisor, teaching assistant for a manufacturing lab, co-philanthropy chair for Phi Eta Sigma and Alpha Lambda Delta, several volunteering & outreach activities, as an ambassador for Minds of Tomorrow, Board Member of the Iowa State Daily, and an undergraduate assistant in the industrial assessment center. When asked about the variety of his activities, Singh says he likes to be involved in everything. "I like to be in the background working hard and supporting all these organizations," he adds.
Through Singh's studies, he has earned multiple internships with Van Gorp Corporation, a co-op in North Kansas City with USG Corporation, an internship with Compressor Controls Corporation in Urbandale and is presently pursuing an internship with Siemens PLM. Working with Van Gorp Corporation gave Singh the ability to put his coursework to the test in a small company feel where he was the only intern and wore many different hats, he is extremely thankful to his supervisor. He says working with USG Corporation in Kansas City was one of his most amazing experiences. "This was my first time working for a Fortune 600 company. Luckily I was working in a small plant, so it still had the same small feel of my first internship," says Singh. He worked on everything from safety projects to equipment to environmental projects to interacting with Union contractors. Singh's most recent internship is his first actual "desk/computer based" job where he is working on a highly technical software project with Siemens PLM.
Receiving the Wallace E. Barron Scholar Award has had a profound impact on Singh. "I received the notification around 12:30 p.m. while I was attending my heat transfer class, and it took a few hours for it to sink in. Then I called my parents, where it was 2:00 am in India, and we cried in rejoice," says Singh. According to Singh, the award is a signal to the end of his journey and it is bittersweet, but he believes it is a time to celebrate all that he has accomplished and sacrificed.
After graduation, Singh plans to go into the work industry while pursuing his social entrepreneurship projects, but does not know where. He hopes to find a job that allows him to travel, experience different fields of work, cultures and work with hands-on projects.
Kaitlyn Aldrich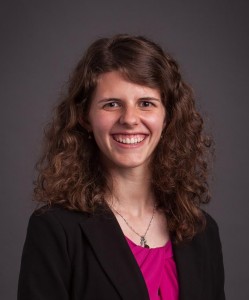 Aldrich, a fourth generation Iowa State student from Urbandale, Iowa, says her mother and father, who are both Iowa State graduates, introduced her to the world of engineering at a young age. "Even though engineering is big in my family, I wasn't sure if I wanted to be an engineer at first. However, after thinking about what I wanted in a career, civil engineering aligned perfectly with those values," says Aldrich.
Helping other people and making a change wherever she goes, Aldrich has made impacts in a multitude of different organizations.
Chi Epsilon, the Civil Engineering Honor Society, was where Aldrich held one of her first leadership roles. Aldrich was inducted into the organization her first year and was serving on the executive board by her sophomore year. Aldrich was able to improve and revamp the recruiting process of Chi Epsilon at Iowa State from a few students to more than 15 per semester, "Chi Epsilon was one of the first leadership roles I held and one of the first I had to back off from as I got involved in other things. It has been amazing to watch it grow since I was first inducted," says Aldrich.
Aldrich also held the position of executive director for Dance Marathon and says she was able to succeed in the role thanks to her experience from other leadership positions on campus. Aldrich has also served as an executive board member for Cardinal Key, student role model for the Program for Women in Science and Engineering, a member of Alpha Gamma Delta women's fraternity, and the teaching assistant in ISU President Steven Leath's Leadership Class.
She also gained work experience through three internships, two with the environmental engineering consulting firm Veenstra & Kimm, Inc. "I found I was able to apply a lot of coursework to this internship, and I discovered that sometimes simple problems have complex solutions," says Aldrich. The final internship was with Burns & McDonnell, where she will be working after graduation as a civil engineer in the energy department.
Being named the Wallace E. Barron Scholar means a lot to Aldrich. "I've known about the award since freshman year and the people who received it were people I aspired to be like. Now I'm thrilled to be recognized as one of them," explains Aldrich. She adds that she is thankful to Iowa State faculty and staff who have been a phenomenal support network and WiSE, which has helped empower her as a woman in engineering.