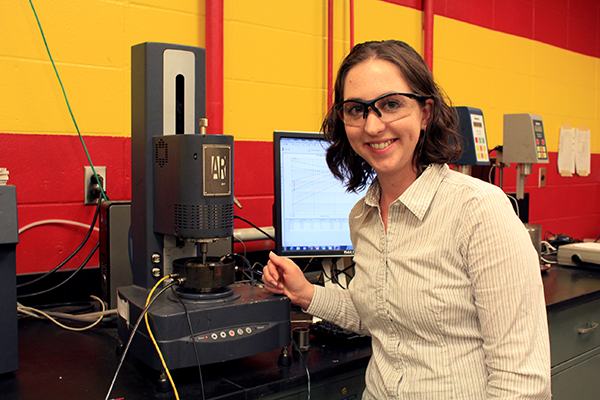 Ashley Buss has dedicated herself to Iowa State University, both as a student and now as a tenure-track faculty member in the Department of Civil, Construction and Environmental Engineering (CCEE).
Buss was hired Aug. 16 as an assistant professor of civil, construction and environmental engineering. She earned her bachelor's, master's and doctoral degrees in civil engineering at Iowa State, which demonstrates her dedication to learning and serving her native Iowa. As an assistant professor, Buss will pursue research, teaching and service pertaining to sustainable pavement practices.
Born in Volga, Iowa, Buss has developed a deep understanding of how civil engineering impacts the sense of community. In 1999, a major flood swept away most of her town. Her community's response to that flood sparked her interest in civil engineering. "I admired the teamwork it took to come back from such a devastating event," Buss said.
A Clayton County, Iowa, internship encouraged Buss to focus her interests on civil engineering materials. As part of this internship she took concrete materials inspector training, which gave Buss tools to assess pavement durability and design. "I became fascinated with the variety of materials used in bridges and pavements," she said. She fostered her civil engineering materials interest by working as a co-op with the Federal Highway Administration and gained undergraduate research experience through the Women in Science and Engineering (WiSE) internship program.
These experiences made graduate school at Iowa State an easy decision. Chris Williams, the Gerald and Audrey Olson Professor in Civil Engineering, mentored Buss on a master's and doctoral degree based on Buss' warm-mix asphalt research. In 2014 she published her dissertation, Investigation of sustainable pavement technologies evaluating warm-mix asphalt using recycled asphalt materials. In spring 2014 she earned an Iowa State University Graduate Teaching Excellence Award.
As a graduate assistant, she co-taught CE 382, which is Iowa State's course in concrete design. "I enjoy educating students so they can implement state-of-the-art practices and critically think about projects they pursue," she said. Buss will teach CE 382 this fall as an assistant professor.
In addition to teaching, Buss is poised to pursue several research areas pertaining to sustainable pavement practices: warm-mix asphalt additives, recycled asphalt pavement and shingles, bio-based additives, adhesives, pavement preservation, chip seals and micro-surfacing, and life-cycle cost analysis.