Three engineering alums from Iowa State have been recognized for their work in the engineering and surveying field.
Michael Conzett, civil engineering alumnus; William Bathie, emeritus professor and technical engineering alumnus; and Jay Baumgartner, aerospace engineering alumnus are actively involved in the National Council of Examiners for Engineering and Surveying, a nonprofit organization made up of engineering and surveying licensing boards from all U.S. states and territories and the District of Columbia. Recently, they received honors for their efforts.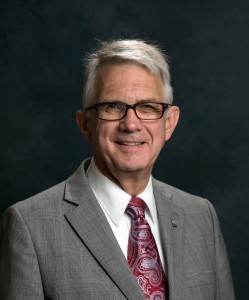 Michael Conzett installed as president
Michael Conzett, P.E., accepted the position of NCEES president at the conclusion of the organization's 94th annual meeting, held August 19–22 in Williamsburg, Virginia. Having completed a one-year term as president-elect, he will now serve as president for 2015–16. A resident of Omaha, Nebraska, Conzett has been a member of the Nebraska Board of Engineers and Architects since 2003. He is a former board chair as well as a former NCEES Central Zone vice president.
Conzett has been a licensed professional engineer since 1982. In 2014, he retired as vice president and senior project manager with HDR Inc. in Omaha, Nebraska, after 30 years of service. Conzett is a graduate of Iowa State University, where he earned a bachelor's degree in civil engineering and a master's degree in sanitary engineering. He is also a member of the American Society of Civil Engineers.
In his speech accepting the office of NCEES president, Conzett discussed the need to better communicate the importance of engineering and surveying licensure. He said, "Licensure is important because it compels us to think differently about the work we do every day. It reminds us of our duty to place the interest of the public over and above our duty to any other party."
Iowa professional engineer William Bathie honored for service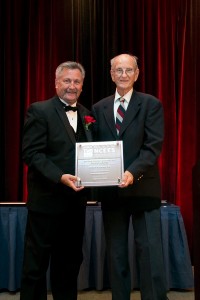 William Bathie, P.E., of Ames, Iowa, has been awarded the NCEES Distinguished Examination Service Award for his dedicated service to NCEES and the engineering profession. Bathie received the award at the organization's 94th annual meeting, held August 19–22, 2015, in Williamsburg, Virginia.
Bathie began volunteering with the Principles and Practice of Engineering Mechanical Exam Development Committee in 1979 and has attended almost all of its meetings over the last 35 years. His service and leadership were key during two major transitions for the PE Mechanical exam. He served as vice chair of the exam's development committee from 1993 to 1998, during the exam's transition from essay only to a combination of essay and multiple-choice questions. He then served as chair from 1998 to 2003, during which time the exam changed to a complete multiple-choice exam with depth and breadth sections.
Today, he remains an active member of the PE Mechanical Exam Development Committee. This includes serving as "exam champion" for the Thermal and Fluid Systems module for two exams, which involves working with an exam from assembly through administration to the review of final performance statistics to ensure consistency. He also continues to be a resource and mentor for new leaders on the Thermal and Fluid Systems subcommittee.
A licensed professional engineer since 1968, Bathie is an emeritus professor of mechanical engineering at Iowa State University. He is also a graduate of Iowa State, receiving his bachelor's and master's degrees in mechanical engineering. He is a member and Fellow of the American Society of Mechanical Engineers.
Jay Baumgartner named to Emerging Engineers and Surveyors Group
NCEES announced members of its 2015-2016 Emerging Engineers and Surveyors Group in May, and the group convened during the annual meeting held in August. Among the group members is Jay Baumgartner, a 2006 graduate of Iowa State University with a B.S. in aerospace engineering.
The Emerging Engineers and Surveyors Group is comprised of young engineers and surveyors who will work with leaders of NCEES and its member licensing boards to shape the future of the engineering and surveying professions and the licensure process.
The group  connects young engineers and surveyors with NCEES decision makers to
Provide feedback and discuss topics concerning the licensure process
Discuss topics relevant to the future of the engineering and surveying professions
"As a P.E., I'm interested in being involved in discussions regarding the future of licensure. I believe licensure is extremely important in maintaining the integrity of the discipline and also ensuring public safety," Baumgartner said.
Baumgartner is a senior design engineer in the structures division of Valmont Industries and has been employed for more than eight years at its Farmington, Minnesota, facility. He has been a licensed professional engineer since 2012.
About NCEES
Since its founding in 1920, NCEES has been committed to advancing licensure for engineers and surveyors in order to safeguard the health, safety, and welfare of the U.S. public. NCEES helps its member licensing boards carry out their duties to regulate the professions of engineering and surveying. It develops best-practice models for state licensure laws and regulations and promotes uniformity among the states. It develops and administers the exams used for engineering and surveying licensure throughout the country. It also provides services to help licensed engineers and surveyors practice their professions in other U.S. states and territories. For more information, please visit ncees.org.