This story was originally published with the Iowa State News Service. 
The National Science Foundation (NSF) has added three years and $8.48 million to the grant supporting the NSF Engineering Research Center for Biorenewable Chemicals based at Iowa State University.
That brings NSF's total funding of the center (known as CBiRC, "See-burk") to the maximum allowed: 10 years and $35.26 million. NSF support of the center began in September 2008 and will end in August 2018. After that, the center must be self-supporting.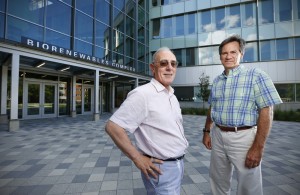 Basil Nikolau, the center's deputy director and Iowa State's Frances M. Craig Professor of Biochemistry, Biophysics and Molecular Biology, said the center was built on a vision of biologists and biochemists working with engineers to solve common problems. The joint efforts have opened up new catalysts and technologies for the production of biorenewable chemicals.
That has helped CBiRC quickly establish a legacy of innovation in research, technology-led entrepreneurship and education, said Brent Shanks, the center's director and an Iowa State Anson Marston Distinguished Professor in Engineering.
The center's highlights (so far), according to Shanks and Nikolau:
New molecules
Center researchers have expanded their approach to biorenewable chemicals. Instead of only finding biological sources for the same petroleum-based molecules used by the chemical industry, Shanks said researchers are starting to produce new molecules.
Those molecules need to be characterized and better understood, but they could lead to better chemicals with improved properties.
"To me, the most powerful part of CBiRC is we've opened up new molecules for biorenewable chemicals," Shanks said. "Petrochemicals are mature as a science and an industry. Now we're coming up with new molecules produced from biological sources. We don't know everything they can do yet, but they could lead to a whole new wave of innovation.
"This is quite different from what everyone else is doing in biobased chemicals. We think this is the future."
Multidisciplinary testbeds
Chemical and biological researchers affiliated with the center are doing fundamental studies in three general areas of biology and chemistry: biocatalysts, microbial metabolic engineering and chemical catalysts. In an effort to systematically bring together the researchers and technologies in those fields, the center has created three testbeds.
Shanks likened the testbeds to the multidisciplinary project teams that chemical companies set up for their research and development work.
"These testbeds are projects that cut across our three research thrusts," Shanks said. "We're bringing people together who don't normally work together. We're becoming more technology-driven, not discipline-driven. We're forming new teams and seeing new synergies."
Those teams and testbeds "are generating a plethora of chemicals," Nikolau said. "That's because these platforms give us a great deal of flexibility."
Technology-led entrepreneurship
The center has spun off six startup companies over the last three years. More are expected.
Peter Keeling, the center's director of industrial collaboration and innovation, said a major reason for that success is the center's science. He said bringing together biologists and chemists to create biorenewable chemicals has been a powerful combination.
And a challenging one: "All the larger chemical companies find it hard to manage biology and chemistry. These technologies have been separated for many years. Also, the biology takes longer to perfect, but it's valuable because it does things chemistry can't do."
Another reason for the success spinning off companies is the center's BioBased Foundry, which combines a class in technology-led entrepreneurship with mentoring by faculty members and industry leaders. The foundry is targeted at graduate students and postdoctoral researchers because that can be a good stage in a scientist's career to explore launching a company.
Keeling said the foundry idea has moved beyond the center and is starting to influence how other NSF Engineering Research Centers promote innovation and entrepreneurship.
The center has also attracted 35 industrial partners that are helping to support the center's work.
"Industry people are looking for insights they can take back home and apply to what they do," Keeling said. "They don't have time to conceptualize the broader picture like we're doing."
Education programs
The center has established education programs for students in middle and high schools, for school teachers, for college undergraduate and graduate students.
One program, for example, places Iowa State graduate students in Des Moines middle and high school science, technology, engineering and math classrooms. A Research Experiences for Teachers summer program brings high school teachers to center labs. There's also a summer academy for middle school teachers and workshops for elementary teachers.
Through these efforts led by Adah Leshem, the director of CBiRC's pre-college education programs, the center has reached more than 20,000 pre-college students and 200 of their teachers.
The center is also home to a Research Experience for Undergraduates program.
Over its seven years, the 10-week summer program has brought nearly 100 undergraduates from around the country to Iowa State research labs. Nearly half of those students move on to graduate or professional schools.
Raj Raman, the director of CBiRC's university education program and an Iowa State professor of agricultural and biosystems engineering, said undergraduate research is very important to the center.
He said the students benefit from their lab experiences and from faculty mentoring. Center researchers also benefit when students working on different projects share ideas and build bridges between labs.
"I ask these students, 'Why do universities exist?'" Raman said. "I tell them, 'They exist to increase human knowledge and to build human capital.' Well, the education programs at CBiRC are building new knowledge while building human capital."
The legacy
Ask Shanks about the center's progress and the word legacy keeps coming up.
There's the chemistry and biology coming together. The technologies de-risked for commercialization. The school students getting to know center researchers. The graduate students learning how to launch a company that meets customer needs. The industry partners sending representatives to Iowa for the first time ever. The programs spilling over to include the broader university. The papers contributing to the technical literature.
"Part of our legacy will be to see where the center's science and engineering fits within the bigger picture," Shanks said. "We've brought a new way to look at the challenges of biorenewable chemicals."