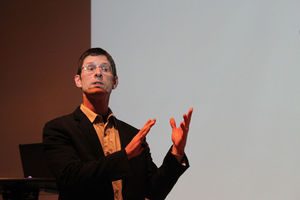 What does it take to make it in the video game industry? Everything and nothing.
Keith Fuller, head of Fuller Game Productions, spoke to a full room of game developing hopefuls about the ups and downs of the industry.
Fuller suggested that an education alone is no longer enough to assure professional success.
"Start forging a network today," Fuller said. "If you want to stand out, ship something."
The market is wide open for young developers to create games, especially popular cell phone apps. Fuller said employers want to see ambition to make games, even on a smaller scale.
Read more of Allison Luety's article at the Iowa State Daily.