New agricultural and biosystems engineering assistant professor studies microbiology and the influence of global change on the environment.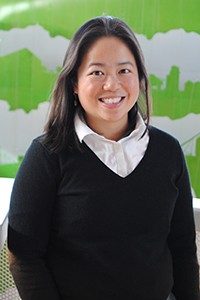 Adina Howe evaluates her success in two ways: through the impact her work has on society and through her students' achievements. "It's more than my personal accomplishments. As a professor, it's exciting that I can motivate students both in the classroom and beyond. Eventually, I hope this training will help them move forward in their careers and make positive impressions of their own."
The new assistant professor in the agricultural and biosystems engineering department says making a difference has always been a driving factor for her, which is one of the reasons she chose a career in engineering.
Howe initially studied mechanical engineering when pursuing her bachelor's degree at Purdue University. She later found a passion for studying microbiology while getting her master's in environmental engineering (also at Purdue) and continued to study microbiology in contaminated environments during her Ph.D. at the University of Iowa. "I was fascinated by invisible organisms having such big effects in our lives."
Now at Iowa State, she's studying the influence of micro-organisms in both natural and engineered systems and has started the GERMS (Genomics and Environmental Research of Microbial Systems) Lab. Specifically, she's investigating how microbes respond to changing environments (e.g., pollution, climate, human-activity) and trying to understand how their responses in turn influence the health and productivity of these environments.
She says the collaborative environment at Iowa State was a big draw for her. "It's exciting and rewarding to be part of a team of diverse experts focusing on making profound changes."
Howe adds that just being in the state of Iowa enhances her work. "This is a state with many environments that are hugely impacted by microbial communities, ranging from toxic bacterial blooms in lakes to highly productive agricultural systems. It's a great resource for my research, and it's terrific to be able to study questions where I can have an influence both locally and globally."