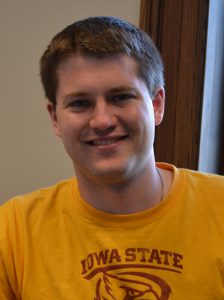 Dan Voss, senior in materials engineering from Atkins, Iowa, will serve as Iowa State's College of Engineering student marshal during the fall 2013 commencement ceremony held Dec. 21. He will be accompanied by Clint Stephens, scholar in residence for leadership education, as he leads the engineering class into the ceremony.
Voss will graduate with an emphasis in metals and polymers, as well as an Engineering Leadership Certificate and minors in political science and economics.
During his time at Iowa State, he assisted in designing and co-taught a new course, Leadership with Purpose, while interning in the Carrie Chapman Catt Center for Women and Politics. Voss has also interned twice at Donaldson Company as a manufacturing intern and an air media intern. Additionally, he was an undergraduate research assistant in the U.S. Department of Energy Ames Laboratory and tutored for Iowa State's Academic Success Center.
Voss is very active in Engineers Without Borders, even traveling to Belize with the group in November 2012. He has served as ISU chapter president, vice president, and programming chair, and then as the Midwest regional vice president. He also presented at the 2013 Midwest Regional Conference of EWB-USA.
Outside of engineering, he held several leadership positions within the Government of the Student Body. Voss also spoke at various engagements, including leading a three-day workshop on water quality at the 2011 Iowa 4-H Youth Conference. In addition, he represented the Material Advantage organization by discussing the importance of science with Iowa's Congressional representatives at the 2012 Congressional Visit Days in Washington, D.C.
"I've had the privilege of meeting many exceptional people through Engineers Without Borders, my department and other experiences. They have taught me that failure is not final, and that we cannot limit ourselves to pursuing what is obvious or easily achievable. Together, we can accomplish so much more," Voss reflected. "It is truly humbling to represent all those in my department, college, and university who I respect and admire. I take this honor as a challenge to make even greater positive impacts as an alum."
After graduation, he plans to pursue a master's degree in education and spend his career teaching high school physics.
Outstanding seniors for this semester are:
Dalia Abo Sheasha, software engineering
Blake Carolan, construction engineering
Katelyn Dahlke, chemical engineering
Linda Geiger, agricultural engineering
Mark Johnson, mechanical engineering
Stephen March, electrical engineering
Michael Phillips, aerospace engineering
Melissa Slagle, industrial engineering
Brittany (Oswald) Tuohy, computer engineering
Jacob Weiss, civil engineering
Holly Wrage, biological systems engineering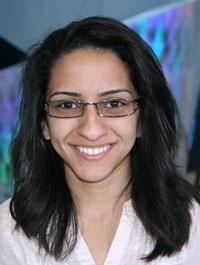 Graduating with honors, Dalia Abo Sheasha, of Cedar Rapids, Iowa, will be earning a degree in software engineering and minor in philosophy. Abo Sheasha is a member of the National Honor Society of Collegiate Scholars and the Golden Key Honor Society, and she received the Multicultural Vision Program Scholarship and Iowa State's Scholars & Leaders Award. She played an important role in the Software Engineering Student Advisory Council when the program was reviewed and accredited by the Engineering Accreditation Commission of ABET, www.abet.org. Always eager to improve student life at Iowa State, Abo Sheasha helped found the Diversity Network, an organization that sponsors diversity events, and served as a council member in the Interfaith Student Council aimed at further improving on-campus experiences for students with different religious background. Abo Sheasha plans to join IBM full-time after she graduates.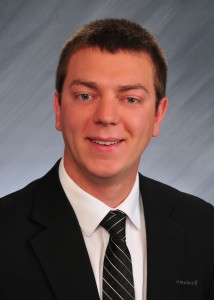 Blake Carolan, of Waucoma, Iowa, is graduating in construction engineering with an emphasis on building. He received the Ken Lewis Scholarship and was an ISU-Associated General Contractors (AGC) of America Outstanding Member. Carolan became actively involved in the student chapters of the National Association of Home Builders, the Associated Schools of Construction (ASC) and AGC. As captain of the residential team, he helped ASC to first place finishes in the region in 2011 and 2012. Carolan has also logged about 200 hours of service with AGC. He gained real-world experience with Weis Builders in Minneapolis and spent almost two years as a project engineer and assistant superintendent with Neumann Brothers, a company working on the new agricultural and biosystems engineering building on campus. Carolan will continue to work for Neumann Brothers after graduation.
Katelyn Dahlke, of Kearney, Neb., will graduate with a degree in chemical engineering and minor in math. As a student, she was active in undergraduate research, working in polymerization kinetics and in polymer synthesis at Iowa State. She also participated in an NSF Research Experiences for Undergraduates program at the University of Minnesota, studying drug delivery research and at the University of Massachusetts Amherst doing surface chemistry research. Dahlke was actively involved in teaching opportunities as well through tutoring and being a teaching assistant. She was a member of Omega Chi Epsilon and was on the Engineering Student Council, serving as vice president of finance for two years and is the current co-president. After graduation, Dahlke plans to pursue a Ph.D. in chemical engineering with an emphasis in materials and drug delivery.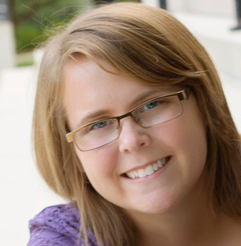 Taking full advantage of her chance to explore the world, Linda Geiger, of New Hartford, Iowa, traveled to five countries during her time as a student, including being a Borlaug-Ruan International Intern in Bejing, China, and a technology development engineer intern for Emerging Opportunities for Sustainability International in San Isidro, Nicaragua. Geiger will graduate cum laude with a double major in agricultural engineering with an emphasis in agricultural and environmental systems and global resource systems. She was a Hixson Scholar, member of the Alpha Epsilon Honor Society and received a President's Award for Competitive Excellence. While at ISU, she conducted research as an undergraduate research assistant for NASA Space Consortium and a biological science aid for the USDA. After graduation, she will be pursuing a master's degree at ISU in agricultural engineering.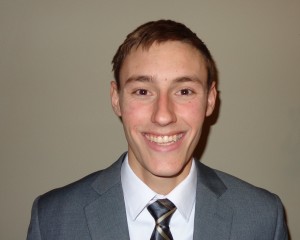 Mechanical engineering senior Mark Johnson, of Ames, Iowa, contributed to several high-level research projects and has been acknowledged in several publications during his time as an undergraduate student. His commitment to research and academic excellence was recently rewarded when he was selected to conduct research at Shangahi Jiao Tong Unversity in Shanghai, China, through the NSF International Research Experiences for Students program. Johnson is also an excellent student-athlete, earning a Varsity letter in track and field, as well as First Team Academic All Big 12 honors. He has also served in a leadership position in Pi Tau Sigma as well as contributed to many volunteer efforts. After graduation, Johnson plans to earn his Ph.D. in an engineering field.

Stephen March, of Lubbock, Texas, is graduating with a degree in electrical engineering. He was a Garmin ECpE Scholar and served as an undergraduate research assistant for several projects, including with the ISU Magnetics Group and the Ames Laboratory, where his results were published. March studied abroad at Tatung University in Taipei, Taiwan. He was the Eta Kappa Nu initiation chair, member of the Tau Beta Pi honor society, ISU marching band section guide, physics tutor and teaching assistant for a microelectronics fabrication course. March has held internships as a product engineer for Micron Technology and as a research assistant at the University of Texas at Austin. He will pursue graduate studies in electrical engineering and focus on nanoelectronic fabrication for novel biomedical devices.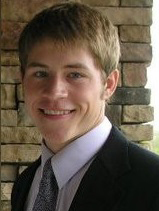 Michael Phillips, of Pocahontas, Iowa, will receive his degree in aerospace engineering, graduating with honors. Throughout his time on campus, he was a member of CyDrone, a group dedicated to designing, manufacturing and operating low-cost small unmanned aerial vehicles. He also held an internship as a weight engineer for Boeing and as a performance engineer for Rolls-Royce Corporation. Phillips was recognized with the Daryl Jahn "Balanced Man" Memorial Scholarship and E-Tech Scholarship. He was a student member of the American Institute Of Aeronautical Engineers and Sigma Gamma Tau. While he continues to seek employment for after graduation, he plans to also pursue a master's degree.
Building a strong portfolio of professional experience, Melissa Slagle, of Plymouth, Minn., completed four internships with HON Company, Lennox Industries, Hallmark Cards, and Campbell Soup Company, and she will spend the upcoming summer interning with Pepsi-Quaker. Slagle will earn a degree in industrial engineering with an emphasis in manufacturing and ergonomics and a minor in sales engineering. She has received the Campbell Soup Company "You Make a Difference" Award, Alpha Sigma Kappa Women in Technical Studies National Sister of the Year award and ISU Scholarship for Competitive Excellence (ACE). In addition to being a leader in student organizations like Alpha Pi Mu Industrial Engineering Honor Society, she volunteered for community organizations like the Girl Scouts, Misericordia and Horizon House. Slagle was also a blogger for the university's Cyclone Life blog and was an undergraduate research assistant in the iMED Lab. After graduation, she will be pursuing a master's degree in industrial engineering at Iowa State to learn more about advanced manufacturing, ergonomics and food science.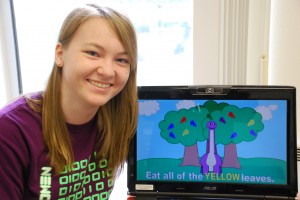 Computer engineering major Brittany (Oswald) Tuohy, of Monticello, Iowa, has been active in numerous leadership organizations and in departmental research and teaching. She earned several honors including gradating cum laude, being named a Grace Hopper Scholar and a Game Developer Scholar, and winning an Iowa Collegian Innovation and Leadership award. Tuohy co-founded the Game Development Club and was also active in outreach to women and youth, participating in more formal programs like FIRST LEGO League and being a peer mentor, as well as opportunities she created herself, such as a dinosaur-themed game she designed for children. She was also a teaching assistant for several courses. Tuohy gained experience outside of the classroom through internships with Rockwell Collins, Boeing and Microsoft. Eventually, she would like to use games to teach programming concepts to children.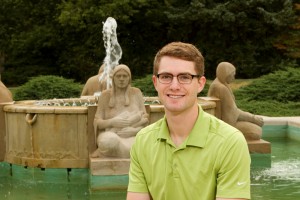 After graduating with a degree in civil engineering, Jacob Weiss, of Jefferson, Iowa, will be entering the workforce with HDR, Inc., while pursuing a master's degree. Weiss spent extra time in the classroom at Iowa State as a teaching assistant, grading, running labs, helping with lectures, and even conducting an independent study that assessed the surveying course offered at the university. He received several scholarships including the Asphalt Paving Association of Iowa Scholarship, Joseph & Elizabeth Anderlik Scholarship, and Iowa County Engineers Scholarship, as well as the Iowa State University President's Award for Competitive Excellence. He was also a member of the student chapters of Tau Beta Pi, Phi Kappa Phi and American Society of Civil Engineers. Weiss augmented his classroom education with practical experience in a co-op with the City of Ames and internships with the Region XII Council of Governments in Carroll, Iowa, the Winnebago County Engineer and HDR Engineering in Omaha.
Holly Wrage, of Boone, Iowa, will earn a degree in biological systems engineering with an emphasis in biorenewable resources and a minor in Spanish. Wrage's campus activities stretch from academic research to student clubs, and they include holding a leadership position for the Biological Systems Engineering Club, serving as a peer mentor and conducting research for Value-Added Products Laboratory. She also worked with the department to create a curriculum for Iowa middle and high schools to learn about renewable energies. She is a leader outside of the institution as well, working with Camp Adventure Child and Youth Services in a variety of positions that range from camp counselor to a day camp director and trainer/recruiter. Wrage has accepted a full time position working with Ardent Milling and will be moving to Pennsylvania following graduation.