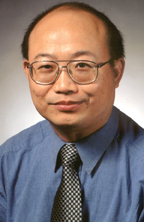 by Michael Still
Jiming Song, associate professor in the Department of Electrical and Computer Engineering, has been elected as a Fellow of the Institute of Electrical and Electronics Engineers (IEEE) for his contributions to algorithms in computational electromagnetics.
"This is an important career achievement for me," said Song. "Computational electromagnetics has wide applications in antenna design, radio frequency integrated circuits, non-destructive evaluation, and more. Fast and efficient algorithms will accelerate design and simulations, and use fewer computer resources, such as memory. This allows us to model large complicated structures on PCs and workstations."
Song received his bachelor's and master's degrees in physics from Nanjing University, China, in 1983 and 1988, respectively. He earned a Ph.D. in electrical engineering from Michigan State University in 1993.
In 2002, Song joined the Department of Electrical and Computer Engineering at Iowa State. His research has dealt with modeling and simulations of interconnects on lossy silicon and RF components, wave scattering using fast algorithms, wave propagation in metamaterials, and transient electromagnetic fields. He has co-edited one book and published seven book chapters, 51 journal papers and 137 conference papers.
Song received the NSF Career Award in 2006 and the Excellent Academic Award from Michigan State University in 1992. He was selected as a National Research Council/Air Force Summer Faculty Fellow in 2004 and 2005.
Established in 1912, the IEEE Fellow distinction is an honor reserved for select IEEE members whose extraordinary accomplishments in any one of the IEEE fields of interest are deemed fitting of this grade elevation. The IEEE Grade of Fellow is conferred by the IEEE Board of Directors, and the total number of recipients in any one year cannot exceed one-tenth of one percent of the total voting membership. IEEE Fellow is the highest grade of membership and is recognized by the technical community as a prestigious honor.