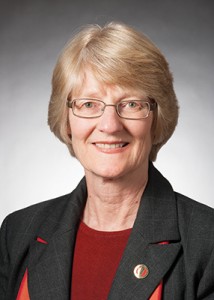 The last time I shared thoughts in this blog I had just started in my position as dean of the College of Engineering. I'd like to thank everyone who made comments and sent emails after my first post. I think open and ongoing communication is essential to good leadership – I plan on sharing information often, and I always appreciate feedback!
A lot has happened in my first 10 weeks, and I wanted to share some highlights of what I've been learning and experiencing.
First and foremost, I have been meeting with people and listening. It's been wonderful to tour all the college departments and meet faculty, staff and students. I am impressed with the talent, commitment and drive that exists here.
I've also traveled near and far to meet with donors, alumni, friends of the college and corporate partners. My impression is one of strong commitment and support. Their dedication is evident, and I know it has a direct impact on our mission.
I arrived on campus at an exciting time and have participated in VEISHEA, commencement, a college advisory council meeting and a few special donor events. We hosted engineering graduates from the Class of 1963 (as well as other years) for the 50th anniversary celebration during Alumni Days. I was touched to meet these engineers and hear their Iowa State stories.
I'm learning the Iowa State culture and all the great traditions that exist – so far I have not stepped on the zodiac symbol in the Memorial Union! I also have Sept. 14 marked on my calendar for the great in-state football rivalry.
We recently announced a new department chair in chemical and biological engineering (Andrew Hillier) and a new associate dean for research (Arun Somani). They will be great additions to our leadership team – replacing Surya Mallapragada and Balaji Narasimhan, respectively, who are taking a sabbatical leave (and returning later this year). I'd like to publicly thank Surya and Balaji for their great work.
Renovation plans for Marston Hall – our grand engineering home – have been approved and planning is underway. Improvements will range from enhancing physical components and modernizing technology to creating a student welcome center and becoming LEED Gold certified. The estimated $20 million cost will be funded by private support, university sources and college funds. Construction is tentatively scheduled to start in the summer of 2014 and take about 18 months to complete. (Many more details to come on this exciting project).
We are preparing for another record enrollment in the college this fall. The Iowa State engineering program is in demand because our students achieve remarkable success and go on to accomplish great things in their careers.
One recent example of our student success is our Team LunaCY making a great showing at the annual NASA Lunabotics Mining Competition. They brought home three awards, including the first place title, by beating 49 other teams from around the world. Congratulations!
I could not have planned a better start to my career at Iowa State. I've had a lot of good advice and input and truly appreciate the warm welcome. I look forward to more great experiences and opportunities in the future. Please stay in touch!