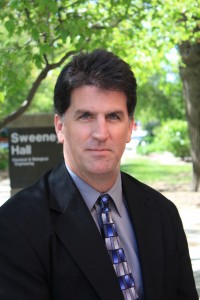 Andrew Hillier has been named chair and Wilkinson Professor of Interdisciplinary Engineering of the Department of Chemical and Biological Engineering at Iowa State University. The appointment began June 1. Previously, Hillier had been a professor and associate chair in the department.
Hillier joined the Iowa State faculty in 2003 after being on the faculty at the University of Virginia. His research focuses on interfacial engineering, electrochemistry and electrochemical engineering, nanoscale optics, and combinatorial science. His research has been recognized with young investigator awards from the National Science Foundation, the Office of Naval Research and the Camille and Henry Dreyfus Foundation. He has twice received the Outstanding Teacher Award at Iowa State from the student chapter of the American Institute of Chemical Engineers. Hillier holds a bachelor's degree from the University of Nebraska and a doctorate from the University of Minnesota.
"Andy is passionate about providing our students with the highest quality education and we look forward to his contributions in his new leadership role," said Sarah Rajala, dean of the College of Engineering. "He has created a positive and collaborative atmosphere and enjoys extremely strong support from the department faculty, staff and students."
Hillier says he is excited about this new opportunity. "I am surrounded by such great people in this department and I am looking forward to sharing my vision to continue the great reputation of our college," Hillier said.
There are currently over 650 undergraduate and graduate students studying chemical and biological engineering at Iowa State. The department will celebrate its centennial during the 2013-14 academic year.
For more information, contact:
Andrew Hillier, College of Engineering, 515-294-3678, hillier@iastate.edu
Ann Wilson, College of Engineering, 515-294-4881, afwilson@iastate.edu