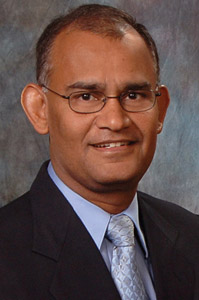 Arun Somani has been named associate dean for research at Iowa State University's College of Engineering. His appointment will begin July 1. Somani is currently an Anson Marston Distinguished Professor in the college's Department of Electrical and Computer Engineering, where he also previously served as department chair.
Somani joined the Iowa State faculty in 1997 and has held various faculty and leadership positions. Previously, Somani was on the faculty at of the University of Washington and also held professional and consulting roles in the private sector. He is recognized internationally for scholarly contributions in the areas of fault-tolerant computing, computer interconnection networks, optical networks and parallel and distributed computer system architecture. Somani is a fellow of the American Association for the Advancement of Science and the Institute of Electrical and Electronic Engineers, as well as a distinguished engineer in the Association for Computing Machinery. He holds a doctorate degree from McGill University in Montreal, Canada.
"Arun's leadership will allow us to continue conducting high-quality research and expand our opportunities to addresses today's greatest challenges," said Sarah Rajala, dean of the College of Engineering. "He will create a strong and collaborative environment and help to diversify our research enterprise."
Somani says he is excited about this new opportunity. "I am very passionate about research and look forward to working with the faculty, staff and all of our partners to further advance the great success and vision we have in the college," Somani said.
In fiscal year 2012, the ISU College of Engineering spent $84 million in externally-sponsored funding for the purpose of improving the human condition through research that addresses energy, biosciences, computing, green technology and infrastructure.