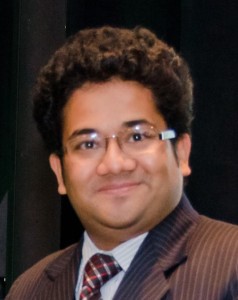 by Thane Himes
Subhadarshi Sarkar, grad student in electrical engineering, was awarded first prize at the 2012 IEEE PES General Meeting Student Poster Contest in July for his presentation on optimal renewable energy.
Sarkar presented his poster to judges, professors, students, and professionals at the general meeting. The next day, he found out that he had won in the graduate category, beating out nearly 200 competitors from all over the world.
"You never think this kind of thing would happen, but it feels good," Sarkar says. "I was happy just to present my work."
Working under electrical engineering professor Venkat Ajjarapu, Sarkar's NSF-funded project focused on optimizing the integration of renewable wind and solar energy into the electric power grid. Sarkar's system is designed so wind and solar energy can complement one another.
Sarkar says several factors go into determining the viability of this system's use, including location.
"Wind comes mostly during the early morning and at night, and the sun peaks during the day," Sarkar says. "To make the system viable, you need good wind and sun that are complementary."
The size of the system also is an important factor, as one needs to be certain that the system can absorb enough energy to supply an adequate level of power to a grid. When location and system size have been considered, the last major challenge is ensuring the synchronicity of collecting energy from both sources.
Sarkar's work is especially relevant today. The US Department of Energy currently has a very ambitious goal of 20 percent of the nation's power coming from renewable sources by 2020. As of 2010, only 8 percent of our energy comes from renewable sources.
"Wind energy has grown very much over the last several years," Sarkar sawy. "But solar energy is still very expensive."
When Sarkar was first starting the project in 2008, he found the biggest challenge was finding a sense of direction.
"At the time, there was not a lot of prior information to go off of," Sarkar says. "Finding precedence was a difficulty."
That problem got easier for Sarkar as time went on, and as more and more work on renewable energy was done.
"When you're working on research, you want to have an existing knowledge base, and then you want to add to it yourself," Sarkar says. "If you can do that, that is four to five years well spent."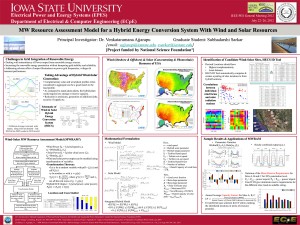 A great deal of research has been done in wind energy and solar energy, but only a handful of pilot projects focusing on the integration of the two are being conducted. Two of the projects are in California, a state with high ambitions for increasing its use of wind and solar energy. General Electric is funding a project in Turkey and another project is getting off the ground in Costa Rica.
"If I were to tell someone 25 years ago that wind energy would be used at this level today, they wouldn't have believed me," Sarkar says. "Who knows how far this will progress in the next five to ten years?"