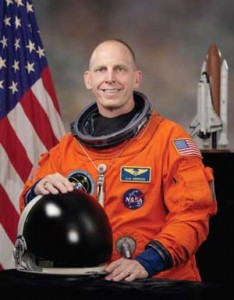 Thursday, November 3, 2011
5:00 – 6:00 p.m.
Alliant Energy-Lee Liu Auditorium
The End Becomes the Beginning
Astronaut and Iowa State alum Clayton Anderson will share his experiences on his last mission, STS131, and his thoughts on what the future may hold for him and the U.S. Space Program.
A veteran of two space flights, Anderson has logged 167 days in space and completed five months aboard the International Space Station (ISS) in 2007. He performed three spacewalks during his time onboard the ISS and recently completed three additional spacewalks as an STS-131 crew member aboard Discovery in 2010. He has logged more than 38 hours of extravehicular activity.
Anderson joined the Johnson Space Center in 1983 and held a number of positions before being selected as a mission specialist in 1998. He holds a master of science degree in aerospace engineering from Iowa State University (1983).