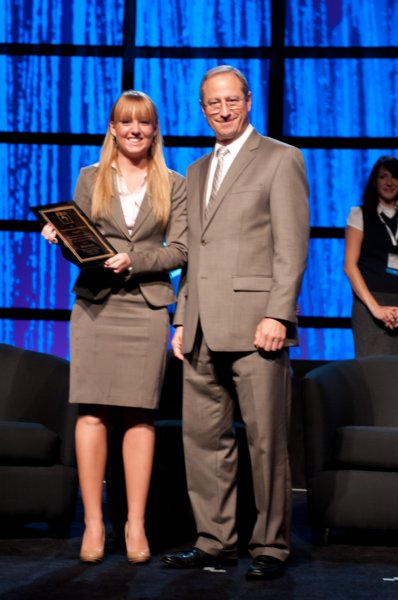 At the 2011 Design-Build Conference and Expo, the Design-Build Institute of America (DBIA) honored two people from Iowa State University.  Douglas D. Gransberg, professor in civil, construction, and environmental engineering (CCEE), received the Distinguished Design-Build Leadership Award, and Krista Morris, senior in CCEE, was honored with the Student Leadership Award.
Morris, president of Iowa State's DBIA student chapter, has been a member for three years and is going on her second year as president. She first got involved in the organization because of her interest in becoming a Naval Civil Engineer Corps Officer.
"Since the Navy uses design-build in a lot of their construction projects, I thought becoming president of our student DBIA chapter would provide a great opportunity for me to learn more about the design-build process since I could potentially use it in my future career," she said.
Morris was right about the opportunities the position would bring her. She has had the chance to travel across the country for three different conferences and work directly with industry professionals, learning perspectives beyond those she gains in the classroom.
In addition, she now has a DBIA leadership award to add to her list of accomplishments. Morris was the only student chosen this year by DBIA, making her even more ecstatic to receive the award. "It feels great to be recognized at such a high level for all the time and dedication that I have put into this organization over the years," she said.
These experiences will stick with Morris as she graduates from Iowa State this coming spring. After Officer Candidate School in Rhode Island, and possibly serving overseas for a few years, she hopes to return to the U.S. to pursue an Associate DBIA certification and master's in construction or environmental engineering.
"My goals may change, but you can always count on me being very busy and involved in the construction industry, especially as a part of design-build projects," she said.