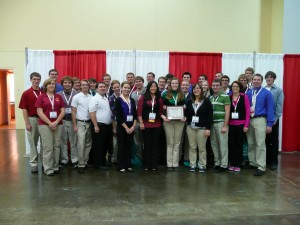 For the eighth consecutive year, the Iowa State chapter of Material Advantage (MA) has received the Most Outstanding Chapter award. The 2011 award was presented at the national Materials Science and Technology Conference, held from October 16–20 in Columbus, Ohio.
This year, MA sent 32 students from Iowa State to attend the conference, and they were among around 950 students from across the country. Chapter members were elated to hear their chapter again announced as the Most Outstanding Chapter.
"We were all equally excited as well as relieved when our name was called," explained Laura Van Steenhuyse, senior in materials engineering and president of MA. "We feel as though we have a reputation to uphold, and we don't want to let ourselves or others down."
Well aware of the expectations on their shoulders, the chapter begins planning early, mixing traditional as well as new events to move the club closer to retaining its title. Highlighted events from the 2010-2011 school year include:
The first ever MATLAB seminar
Industry tours at eight different companies
Participating in Relay for Life and raising over $3,700 as a team
47different demonstrations to promote science and engineering education for children
Hungry for their ninth consecutive Most Outstanding Chapter award, the students have already begun hosting and arranging events. Van Steenhuyse said their primary goal each year is to improve all areas of the club. "We would like to continue all the events and projects from previous years that were successful, and plan new events that will not only benefit our members but also the community," she said.
Van Steenhuyse was particularly looking forward to pursuing the oobleck, a sidewalk made of cornstarch and water that is liquid until enough pressure is applied to it, resulting in a solid surface. "If you run or dance on the oobleck, you are pushing down with enough force to make it a solid and you do not sink at all, and come away with clean feet," she explained.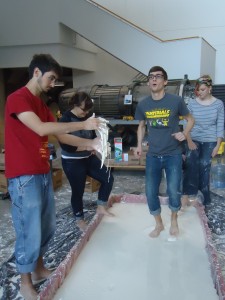 MA constructed something similar during VEISHEA two years ago, but was unable to carry out their plans in 2011 due to the chilled weather. This year, they set it up at the Engineering Middle School Day on October 25 to entertain the kids. The sidewalk was a success as such an odd substance fascinated the young students.
The group is also planning an event with another chapter. Members will be visiting several materials companies in Minneapolis in November, and have invited students from the University of Minnesota to join them. "This will be a good opportunity for us to exchange ideas for fundraising and outreach events, as well as an opportunity for socializing with members from another school," said Van Steenhuyse.
Throughout the year, MA will continue holding events and activities to foster growth in the knowledge of engineering. Van Steenhuyse said that the group is working hard to reach their ninth award with a variety of new opportunities.