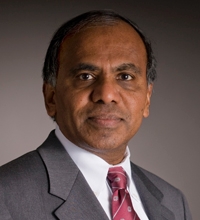 Subra Suresh, director of the National Science Foundation, delivered the inaugural Vlasta Klima Balloun Lecture on Friday, then crossed campus to receive the university's Distinguished Alumni Award.
Suresh, who earned his MS in mechanical engineering from Iowa State, met with the media Thursday before holding a series of roundtable meetings with industry representatives and leaders in education.
Read the news release from the National Science Foundation.
Click PLAY below to listen to Iowa Public Radio's Dean Borg interview Suresh on "The Exchange":
[audio:https://news.engineering.iastate.edu/files/2011/04/IPR_041411_SubraSuresh.mp3]
Read the article in the Ames Tribune.