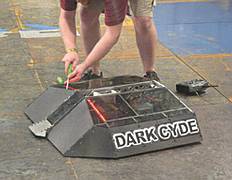 After making it to the quarterfinals in last year's RoboGames with their very first competition robot, the Iowa State Robotics Club's BattleBots team worked even harder this year to improve the performance of their robots at the 2011 RoboGames' Combat Robot competition in San Francisco, Calif., April 15-17. This year, the BattleBots team is taking two robots to the event to compete against teams from all around the world: Dark Cyde II, a redesigned version of last year's robot, and AWESOM-O, a completely new robot.
Derek Joseph, senior in mechanical engineering, will be competing in his second RoboGames as the project manager of the BattleBots team this year. "In a BattleBots event, competitors build and design remote-controlled, armored, and weaponed machines that they put in an arena to fight in a tournament," Joseph says. "The purpose of the fight is for one robot to dominate, overpower, or disable the other. If your opponent is not disabled in a three-minute match, the winner is determined by a judge's decision based on aggression, control, damage, and strategy."
Jon Driggs, junior in electrical engineering, hopes to improve on last year's performance after going 2-2 in the double-elimination bracket. "We learned a lot about the strengths and weaknesses of our BattleBot last year at the competition," Driggs says. "I would say that the new robot designs this year reflect what we've learned from those matches. We updated the design of Dark Cyde in order to be more effective against combats robots that have wedge and spinner weapons."
Dark Cyde II is a 120-pound robot that will compete against other similar robots at the RoboGames competition. The robot's main weapon is a pneumatic hammer, which is connected to a steel arm that extends past the front of the robot. In addition to the primary weapon, Dark Cyde II also has a steel wedge that performs brute-force ramming attacks.
AWESOM-O is a 60-pound robot outfitted with several different spinning steel blades to use as weapons. "The circular blade (somewhat similar to a saw blade) itself weighs a little over 16 pounds, so the weapon is pretty intimidating," Driggs says. "However, such an extreme weapon is necessary when facing other professional groups that have similar styles of weapons on their robots."
In addition to updating the robot designs, Driggs says that they have developed a better work schedule for the robots this year so they had plenty of time to test and get familiar with driving them before competing. "The mechanical/electrical design phase of the robots lasted the majority of the fall semester. Concerning the construction phase of the robots, we have several sponsors that donated services such as water-jet cutting and precision machining. These donations saved us an invaluable amount of time, since processes such as water-jet cutting are much faster than machining large sheets of metal by hand," Driggs says. "This year we sent materials to our sponsors in early February and received the majority of the materials back early March. We have been working since then to finish machining parts and wire the systems together."
The team's main goal was to get hands-on experience with robotic design projects.  "We also hope to do well at the competition and build a reputation as a serious competitor," Driggs says.
-30-