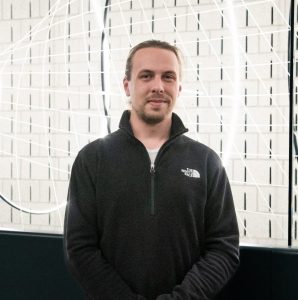 Fynn Reinbacher, a Ph.D. candidate in mechanical engineering and a graduate assistant in CoMFRE affiliate James Michael's research group, saw an email and took a chance on an unexpected opportunity – applying for an industrial research fellowship. 
Reinbacher was selected, and the University Turbine Systems Research Gas Turbine Industrial Fellowship took him to Southwest Research Institute, which was interested in his expertise in combustion and laser diagnostics developed at Iowa State.
At SwRI, Reinbacher focused on three major projects related to oxy-fuel combustion, with one goal: bringing recyclable, environmentally-friendly power generation to industrial applications. 
"For one, there's a full-scale oxy-fuel combustor for supercritical CO2 power cycles. And secondly, they are developing a smaller benchtop test rig," Reinbacher said. "The mission is to explore new realms of combustion, burning things at extremely high pressures in CO2 rather than air at atmospheric pressure." 
On top of that, Reinbacher's classroom experience allowed him to take the lead in the hands-on development of a laser ignition system at SwRI.   
"I had unique research experience with lasers, so I took the forefront in optimizing laser focusing, figuring out what energies were needed, what was needed to create a laser spark, placing the location of the spark and everything along that nature," Reinbacher said.
In the end, Reinbacher gained the industry and major research lab experience he was looking for while advancing multiple projects for SwRI.
"Take a look at those emails that go around with seemingly random opportunities and apply, because the only way you won't gain new experiences is if you don't try," Reinbacher said. "Having an interest is enough of a reason to go for it, even if it is not directly related to your research. Tackle new challenges and be open."