Do you have what it takes?
If pushing yourself to master new tasks, employing teamwork and following operational thinking to achieve goals sounds like a great way to end your summer, then you need to apply for the Department of Aerospace Engineering's 2023 Spaceflight Operations Workshop™.
The two-week experience is set for August 1-13, 2023 and the application period is now open.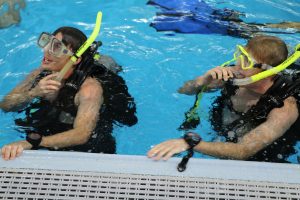 The workshop departs from the typical college classroom experience and engages students in hands-on activities to learn planning, execution, and teamwork while transforming their thought processes to be more operationally centered.
It's open to all Iowa State University undergraduates, students from other post-secondary institutions and to middle school, secondary and post-secondary educators.
The workshop is not designed to create future astronauts; but it does involve activities, seminars, and exercises similar to those used in actual astronaut training at NASA's Johnson Space Center in Houston to create a shift in one's personal ability to think more operationally. It will present stressful conditions at times, with crewmembers experiencing long days filled with multiple activities.
Those activities include such things as SCUBA diving (which includes receiving SCUBA certification upon successful completion of the training), skydiving, aircraft flight simulation, flight control communication, wilderness survival training, virtual reality emergency response aboard the International Space Station and more.
Classroom activities and seminars cover subjects such as space law, space physiology, spacecraft control panel design, leadership, and more.
The workshop was created by, and is coordinated by, former NASA astronaut, Iowa State aerospace engineering alumnus and department faculty member Clayton Anderson.
Learn more about the workshop and access the application form [LINK]. You are asked to read the entire web page about the workshop and its requirements and expectations prior to submitting an application. The application deadline is 11:59 p.m. March 20.