Thivani Senathiraja, a Ph.D. student in chemical engineering, has an appetite for solving problems.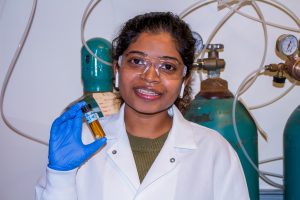 "I love being a chemical engineer because they have the skills to work on any problem. As we all know, one of the biggest crises now is climate change. By 2030 we need to have real change. And by 2050, we need to have net zero carbon emissions. And chemical engineers can help solve the problems we need to address to take on climate change," said Senathiraja.
And Senathiraja is working with Chris Cornelius, the Dr. Thomas D. McGee and Dr. Ick-Jhin Rick Yoon Department Chair in Materials Science and Engineering/Wilkinson Chair in Materials Science and Engineering and who also has a courtesy appointment in chemical engineering, to promote green energy by optimizing and increasing the performance and durability of hydrogen fuel cell membranes. Her research and leadership have resulted in her receiving several awards, including the local Guiding Start Award from the Graduate Society of Women Engineers.
An undergrad passion for a greener world
Senathiraja's work on sustainability issues started long before her time at Iowa State University. As an undergraduate at the National Institute of Technology, Karnataka (NITK), one of India's top 10 engineering schools, she did not shy away from complex research problems.
One project Senathiraja worked on at NITK focused on optimizing the extraction of precious metals like gold and silver as nanoparticles from e-waste using coconut extract. Later at NITK, she worked on a project developing specialized nanoparticles to absorb antibiotics contaminating water systems.
"Pursuing innovative solutions that work to build a more sustainable and empowered world will always be a passion that drives me," said Senathiraja.
Researching better membranes at Iowa State
During her junior year, her internship experience at the University of North Carolina drove her to apply for graduate schools in the U.S. Senathiraja started graduate school at the University of Nebraska Lincoln and began working with Cornelius. When Cornelius started a career at Iowa State, she followed him to continue her research.
"I am happy I came to Iowa State. There is so much collaboration and support here. I find it really motivating. I can dive head first into my work, knowing that I have the support of everyone around me," she remarked.
At Iowa State, she has worked with Cornelius to optimize and develop membranes for hydrogen fuel cells.
She offers this analogy regarding her membrane work: "Imagine baking. Different combinations of the same ingredients can make a cake or an entirely inedible mess; the key is finding the perfect composition. Similarly, my research involves tuning the morphology of fuel cell membranes and identifying how different structures can lead to different properties. For example, when I blended two different polymers together to create a new membrane, I observed that some compositions led to ordered structures resulting in good transport properties but fragile membranes. In contrast, some led to dispersed structures with completely opposite behavior."
Senathiraja hopes that the research will help increase the adoption of hydrogen fuel cells in cars and wastewater treatment facilities. "Understanding how different morphology leads to different properties is important as it allows us to identify the perfect composition for developing high-performing membranes. If we can succeed in this, we'll wake up the hydrogen fuel cell economy," says Senathiraja.
Efforts rewarded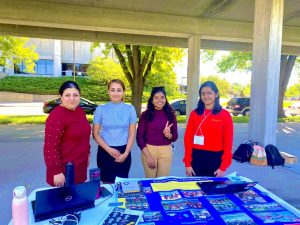 Senathiraja's passion for addressing environmental problems is building the foundation for a promising career.
In 2022, she served as the lead author for an article published in the International Journal of Environmental Science and Technology.
Senathiraja is also president of the Graduate Society of Women Engineers (SWE) chapter at Iowa State University and recently won the local Guiding Start Award. The award recognizes SWE members who have made outstanding contributions to the group, its partner organizations, the engineering community, and their campus; and contributions which included building an inclusive environment, securing funding, fulfilling strategic goals, developing team-building activities, and establishing better communication practices for her SWE chapter. During her time as president, Senathiraja also developed an award-winning application for the SWE Mission Award for the fiscal year 2022.
In addition to these successes, she received a PMSE Graduate Student Travel Award Winner and Best Poster Award from the division of the Polymeric Materials: Science and Engineering (PMSE) American Chemical Society.
Recently she also placed second in the Department of Chemical and Biological Engineering's Perfect Pitch competition this year and was the runner-up in her group in the Three Minute Thesis competition hosted by Iowa State University's Graduate College.