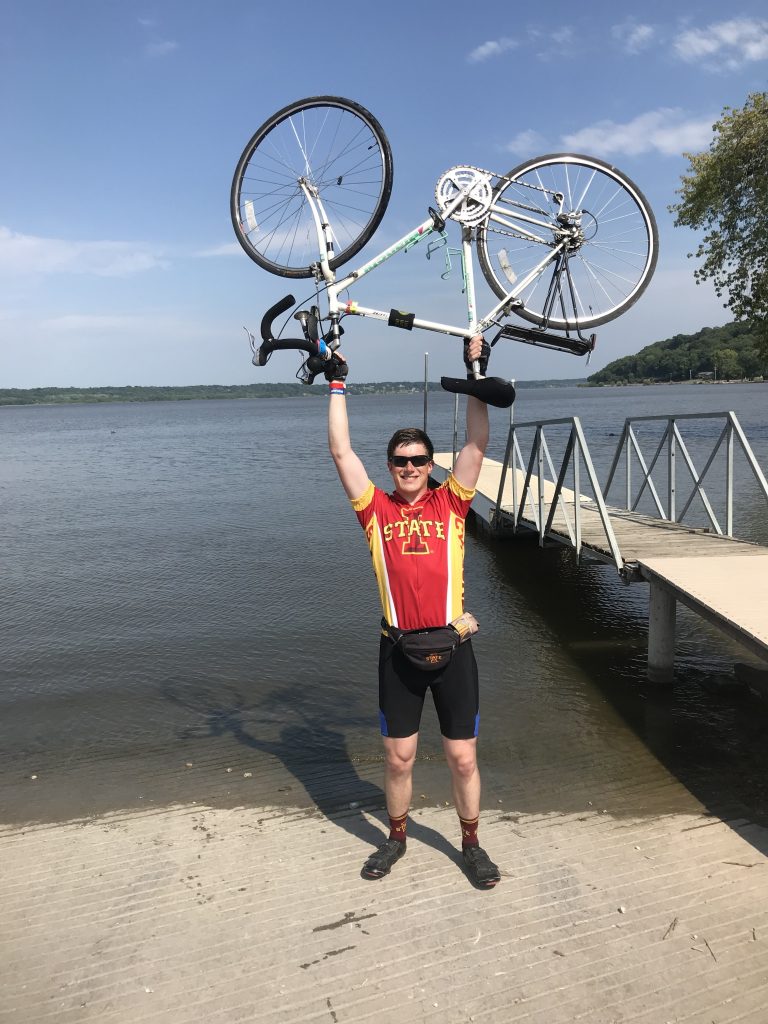 While he could have just spent his summer in the comfort of an air-conditioned lab, mechanical engineering (ME) graduate student Nick Schnoebelen decided to brave the heat and trek more than 450 miles across Iowa's northern terrain on his bike.
Schnoebelen, a M.S. student in ME, recently completed his fourth full RAGBRAI route. RAGBRAI stands for the [Des Moines] Register's Annual Great Bicycle Ride Across Iowa and is an annual cycling event where participants ride bicycles from the west side of the state more than 400 miles east before finishing at the Mississippi River, stopping in various cities and towns along the way. It's tradition for riders to start the race with their back tire in the Missouri River and to finish it by dipping their front tire into the Mississippi River.
Doin' that RAGBRAI
The 2022 RAGBRAI route traversed the northern portion of the state, beginning in Sergeant Bluff and finishing 454 miles later in Lansing. The event, which just celebrated its 49th year, took place July 23 to 30.
Cycling has been part of Schnoebelen's life for as long as he can remember. Growing up in Iowa City, he would often ride bikes with friends to get ice cream or to visit the public pool. His mother's side of the family has participated in RAGBRAI for decades and his maternal grandparents were actually on RAGBRAI when he was born in 1997. After constantly hearing stories about RAGBRAI from his family, Schnoebelen completed his first RAGBRAI route in 2017, when he was 20.
"Cycling has always been a nice hobby to both relax and exercise with, and it has been fun having a lot of my friends and colleagues get into it so that we can go for rides together," said Schnoebelen. "RAGBRAI has also led to meeting a lot of great people and seeing places in Iowa that I might not otherwise have seen."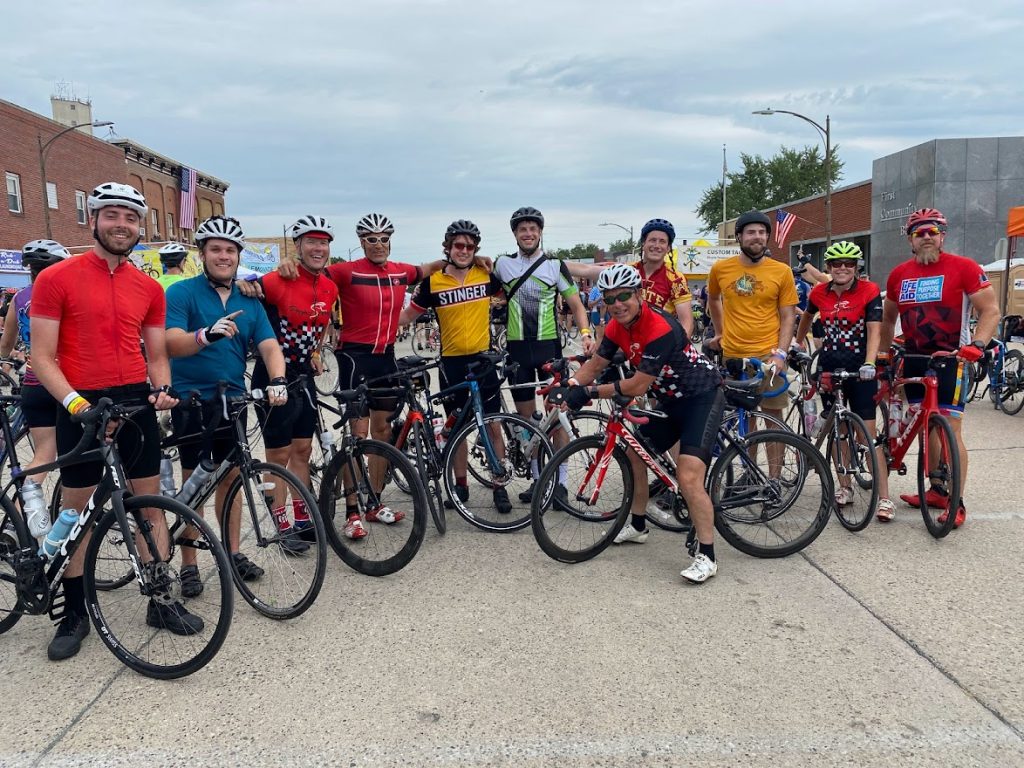 Each year, Schnoebelen has participated as part of Bike Burlington, a club based in Burlington, Iowa of which his grandparents were members. In preparation for this year's ride, Schnoebelen logged between 200 and 300 miles to condition himself. In previous years he aimed to get as many as 1000 miles before the ride, but said he was more limited this year because of his responsibilities as a graduate student.
Schnoebelen recalled two "small world experiences" while on this year's ride. First, after chatting with a fellow member of the Bike Burlington team he came to find out that his teammate works at the same display case refrigerator manufacturing plant where Schnoebelen worked for his first internship.
"I also found out that the main project I worked on back in 2018 is still being used today which was something really rewarding to hear about," said Schnoebelen. "Another cool story from this year was that some friends and I formed a small peloton to battle a strong headwind on one of the days. We had a group of cyclists from Project Speed join as well as 1984 Olympic silver medalist Nelson Vails."
STEM runs in the family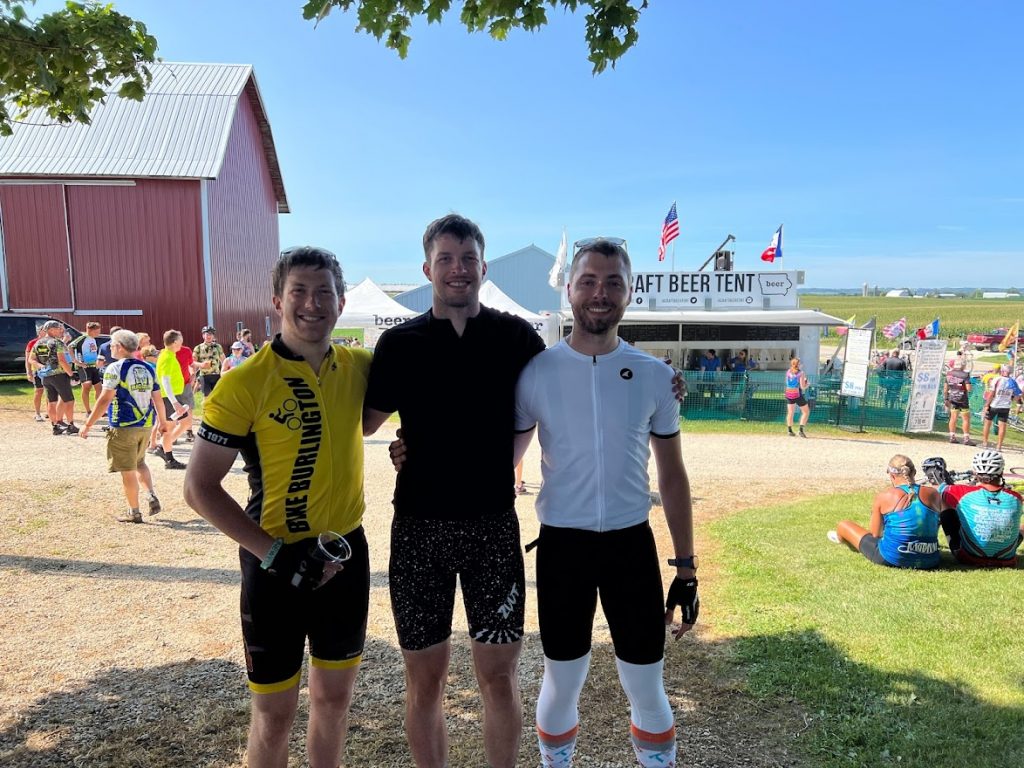 Much like his love for cycling, Schnoebelen's interest in the STEM field also dates back to his childhood. And much like cycling, he was drawn to STEM because of his family. His father is a veterinarian while his mother works as a pharmacist. His siblings have pursued studies in everything from civil engineering to physical therapy to nursing. His extended family includes an industrial engineer, a chemical engineer and a computer engineer.
Growing up, Schnoebelen was constantly "tinkering" with his toys and he would often build makeshift dams in the creek behind his family's home. By the time he got to middle school he became involved with the robotics team and after a job shadowing experience, Schnoebelen decided that he wanted to study ME and pursue a career in manufacturing and design.
Schnoebelen said he was drawn to Iowa State University in part because it was his father's alma mater but also because he was impressed with the number of resources available to engineering students when he came for a campus visit. He said he didn't apply anywhere else and declared ME as his major shortly after arriving on campus in Fall 2016.
Arriving on campus
That first semester, Schnoebelen was enrolled in M E 190: Learning Communities, the course for the Mechanical Engineering Learning Teams (MELTs), which he said went on to be one of the most impactful courses he took as an undergraduate.
"It set the stage for how the rest of my college career would go. I connected quickly with a sizable portion of the class and the peer mentor who helped us get started with the mechanical engineering program by guiding us through study techniques, extra curriculars, resources on campus and career advice."
After his positive experience in MELTs, Schnoebelen decided to pay it forward by serving as a peer mentor for the next four years so that he could positively impact students in the same way that his peer mentor impacted him. Over the course of his undergraduate experience, Schnoebelen also participated in various internships and co-ops that contributed to his professional development, including with Hillphoenix, Kinze Manufacturing and Boeing.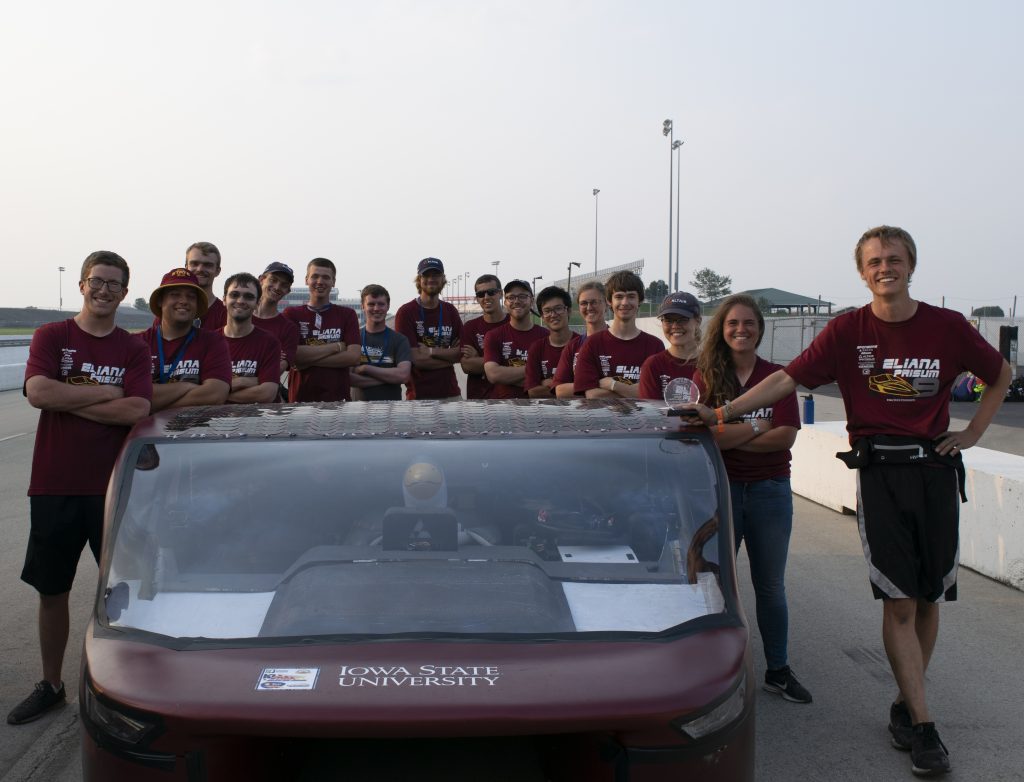 Schnoebelen was also an active member of PrISUm Solar Car, which not only contributed to his development professionally, but which also provided him with a social network of friends whom he remains in touch with today. He said he appreciates the interdisciplinary nature of the club and how it brings together the different fields of engineering as well those with skills in outreach, business and design to advance their goal of building a solar car. He encourages current and incoming students to consider the opportunities PrISUm offers both in terms of gaining practical engineering experience but also to develop friendships.
"No matter what major you are, the team is open to bringing you in and involving you even if it is something outside of what you study. The team has also been a major source of friends, whether that be through the numerous social events like team dinners or going out axe throwing or even just the long nights spent together working on the car."
From under-the-hood to in-the-lab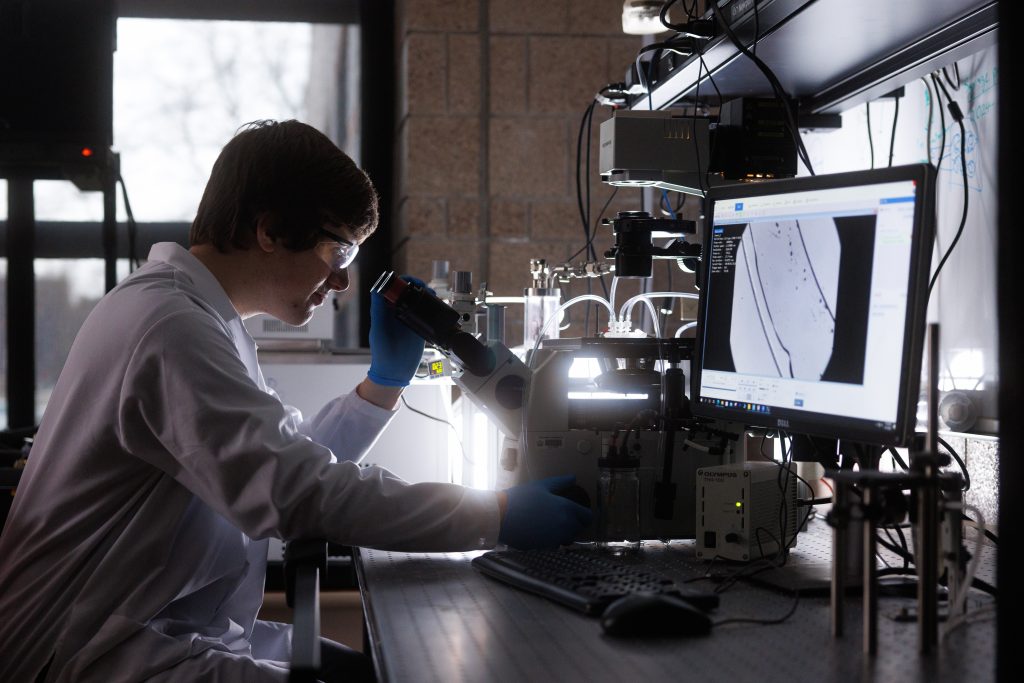 Schnoebelen completed his B.S. in ME in 2020, and though he had a full-time job offer he decided to stick around Ames to pursue his M.S. in ME. He is currently working in the lab of Todd Kingston, assistant professor in ME, on a project dedicated to capturing biothreat material out of the air and then feeding it into an aptamer-based sensor. Specifically, Schnoebelen and his colleagues are working on the aerosol capture side of the project using inertial microfluidic channels, as well as the systems integration, to connect the sensor portion to the capture portion.
Schnoebelen plans to complete his M.S. in Spring 2023 and after graduation hopes to pursue a career in research and development. Specifically, he's interested in the fields of agriculture and aerospace, though he said he would consider other areas too depending on the job market when he graduates. Ever the engineer and cyclist, Schnoebelen is already thinking about his next pet project.
"Recently, I've developed a compatible bike cleat which I have been testing through rides and most recently on RAGBRAI. The biggest problem I found was not from the biking aspect, but from the wear and tear of walking on them. I have a couple of ideas currently that I am planning to implement on version two," Schnoebelen said.