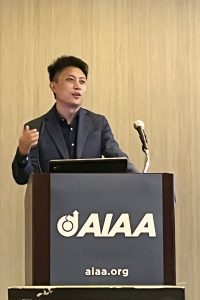 Department of Aerospace Engineering graduate students Nianhong Han and Anvesh Dhulipalla have taken second best and third best paper honors, respectively, in a prestigious international competition.
The achievements came at the American Institute of Aeronautics and Astronautics (AIAA) AVIATION 2022 Forum and Exposition in Chicago. The presentations were just one part of the six-day event that annually attracts aerospace industry professionals and students worldwide.
Han took second place ASE (Atmospheric and Space Environments) Student Paper honors for "An Experimental Investigation to Assess the Effectiveness of Various Anti-Icing Coatings for UAV Propeller Icing Mitigation."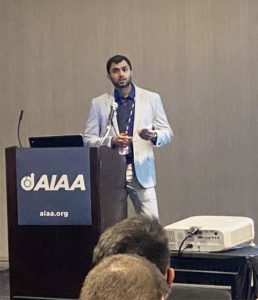 Dhulipalla was awarded third place in ASE Student Paper for "A Comparative Study to Characterize the Effects of Adverse Weathers on the Flight Performance of an Unmanned-Aerial-System." Han is also an author of this paper.
Han recently defended his final oral examination for a Ph.D. in aerospace engineering at Iowa State.
AerE's Martin C. Jischke Professor Hui Hu is the major professor for both Han and Dhulipalla.