Paul Willard's ('92 aero engr) number one investment criteria for his venture capital firm is "if I was looking for a full-time engineering job tomorrow, is this a company that I want to join?"
And for Willard, it's not just a rhetorical question. 
After working at Boeing, watching several big-name startups go public, and then starting his own venture capital firm, he still heads into the offices of the companies he's invested in to do whatever needs doing.
"You want me to engineer, I'll be an engineer. Want my help with your marketing plans, I'm in. You want me to work on the financial model, I'll do that. I don't care what the project is. I just sit down and work with you," said Willard.
Willard can take on just about every startup task because he's done it before – and with great success.
Coding Web 1.0
After graduating from Iowa State, Willard headed to Boeing and worked through the 1990s as an aerodynamics engineer, before getting a master's degree from Stanford in 1999, just as Web 1.0 was exploding.
"Thanks in part to the skills I learned at Iowa State and the experience I got writing a lot of code at Boeing, I went to work at the first online bank startup managing its software development process," said Willard. "And, as it turned out, learning a lot about marketing and product development along the way."
In what became a 15-year run of working at startups, Willard saw several go public and become household names, like Coupons.com and Atlassian, and his scope grew to Product and Marketing leadership positions, charged with seeing how emerging technologies could transform historically offline businesses and processes.
"An ongoing theme in my career has been applying code and tech for the first time to new applications," said Willard, "Web servers came along and suddenly opened up whole new markets, and later, laptops and mobile phones created even more potential for software-as-a-service."
The possibilities were about to get even bigger and broader as Willard turned his attention to investing in tomorrow's tech changemakers.
Investing in sky-high solutions
Willard has now founded a venture capital firm, Grep VC, that invests in early-state robotics-as-a-service (RaaS) companies. 
"Like my time in startups, I saw that all the pieces – electronics, hardware, software – were there to make new types of robots that perform narrow skills, but with a wide impact in big markets."
Willard's first RaaS investment was in a company called Zipline, which uses autonomous aircraft that deliver health products. The company started delivering blood in Rwanda but now they drop off everything from thermometers ordered from Walmart here in the U.S. to COVID-19 vaccines in rural areas in Ghana.
"Zipline's cofounders were some of the best experts in robotics and engineering in the world and they wanted to apply technology to solve a specific problem they were personally motivated by.  I was able to see that the capabilities of an electric airplane could do what they were hoping," said Willard.
As one of the few Silicon Valley investors with experience designing airplanes, Willard's investment was needed validation that Zipline's idea could fly.
"It's great to be that signal for hard-working innovators like the Zipline founders, a real source of happiness," said Willard. "While I was getting my undergraduate degree, I could never have imagined that I would be involved in designing robot aircraft that have saved 10s of thousands of lives and still counting by getting life saving blood and medicine to the right place quickly. Zipline is actually putting a nice dent in the world."
And Grep VC has made investments in other robotics companies also poised to make an impact in safety, health and quality of life for many more thousands, including Cobalt Robotics, a security robot company, and Labrador Systems, which is building autonomous mobile robots that carry items around homes to help people with mobility issues.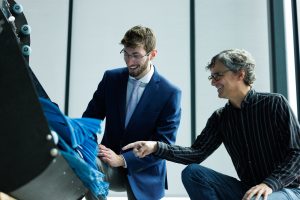 Back on campus
And now Willard is giving back to Iowa State, mentoring current students on innovation and entrepreneurship.
"If my knowledge of how the startup world works could help another upcoming Cyclone Engineer be more impactful, I knew immediately I wanted to get involved," said Willard.
Willard has given Student Innovation Center presentations to Iowa State students on his experiences. And he also collaborated with friend and startup founder, Hudson Harr, and Shahram Pouya, adjunct assistant professor of aerospace engineering, on a semester-long team design sprint to ensure that skyscraper cleaning robot SkyCurrent is safe up on buildings in high winds.
"It was amazing to have a front-row seat to how the Iowa State students generated the data Hudson needed to answer crucial questions for SkyCurrent's design and performance," said Willard.
Engineers can execute
Willard also recently donated a Zipline airplane to the Department of Aerospace Engineering, which will be on display in Howe Hall as a visual message to Cyclone Engineering students that they are the right people to solve the big challenges of the world.
"Everyone thinks Silicon Valley is just a place full of genius ideas. And there are a lot of great ideas here. But like the saying goes 'ideas are cheap and execution is everything,' and engineers have the discipline to execute, to put their head down and do the job fast and well," said Willard.
"Engineers know if you care enough, problems are solvable with curiosity, collaboration, and perseverance through the hard work," Willard continued. "You need to find a problem you care enough to fix."