For more than two decades, Beth Duyvejonck, 1997 Department of Civil, Construction and Environmental Engineering CCEE graduate, has focused passionately on building a better future for women in the construction industry.
She was recently recognized by CCEE as Distinguished Alumni for her "influence and leadership in construction engineering and construction education and strong advocacy for women."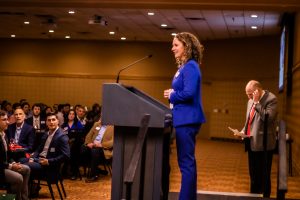 As Regional Vice President of Construction at The Opus Group, a commercial real estate development, construction and design company based in Minneapolis, Duyvejonck oversees every Opus project in Minnesota and Iowa. She leads a team of construction project managers to complete projects in multiple sectors including industrial, residential/multi-family, institutional, retail, and office. She also participates in strategic planning and has responsibility for resource allocation and related activities.
From the suburban corporate campus for Best Buy to the construction of some of the highest profile buildings in downtown Minneapolis, Duyvejonck has managed projects that have not only changed the landscape, but benefitted communities and economic development.
"As a young woman in a field where most leaders are men, it was really important to me to be in a place where my style of leadership and the fact I am a woman was validated, encouraged and valued," Duyvejonck said. "From day one, Opus has supported and believed in those values."
Her manager Tom Becker, president and CEO of Opus Design Build, said, "Beth is transparent, thoughtful and driven. She is also empathetic, which is a rare combination of qualities. Her contributions to Opus are immense. She handles her responsibilities with distinction and can always be counted on to lead important initiatives and extracurricular assignments, extending her impact well beyond her role."
Duyvejonck has achieved many firsts. She was the first woman director of construction and went on to become the first woman regional vice president of construction for the company. While those firsts are important accomplishments for Beth, she wants them to be a thing of the past for other women.
"When I think of my legacy, I look forward to a time when we can stop measuring these accomplishments as firsts, and instead normalize the incredible talent women bring to our industry," Duyvejonck said
Embracing Women and Diverse Populations as Valuable Contributors
With 25+ years in the industry, Duyvejonck has encountered many comments and actions based on her gender.
"I've been called honey. I've been catcalled," she said. "We are still living in a time when women need to work harder than men to prove they are equally competent. Often times we need to restate our credentials repeatedly to be heard. We need to change the narrative of what construction engineering looks like and embrace women as valuable contributors."
"While women make up only nine percent of the construction workforce, Black professionals make up only about six percent. These percentages have not changed for decades," Duyvejonck said.
And they have prompted many leaders, like Duyvejonck, to take action and increase inclusion and belonging for groups underrepresented in the industry.
In addition to seeking non-traditional talent to join her team, Duyvejonck passionately works to increase equity in STEM and the skilled trades. One example is her volunteerism and leadership for Future Builders, an Opus and Opus Foundation initiative that, in partnership with Construction Careers Foundation, introduces and prepares diverse youth for careers in construction.
Setting the Standard
At the banquet in April when Duyvejonck was recognized as CCEE Distinguished Alumni, she set a standard for recruiting diverse talent and encouraged others to do the same.
"Join in the effort to change the narrative," Duyvejonck said. "To change the narrative about what construction talent looks like. I offer this to you because we are an industry that is in need of talent. We need talents of all genders, all nations, and all colors to be welcomed, have an equal seat at the table, and be valued for unique skillsets."
Duyvejonck is breaking down barriers for the women in construction, so they no longer have to strive to be 'the first.'