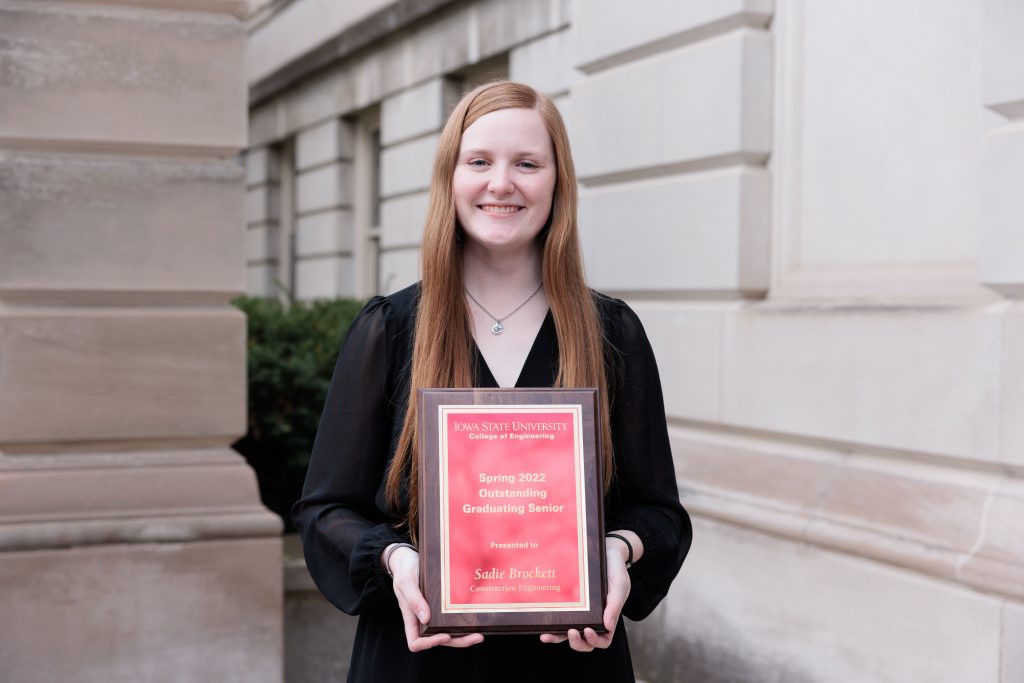 "The number of opportunities I have had to grow academically and as a leader have been unmatched – from rigorous coursework to extracurricular activities to industry internship experiences. I was able to choose my path in and out of the classroom to develop myself into the best engineer I can be."
Hometown: Reinbeck, Iowa
Clubs and activities: Associated General Contractors of America, where I volunteered on cabinet or committees for 3.5 of my four years, including serving as president this past year. Associated Schools in Construction Competition (ASC) for three years, and as captain of the Heavy/Civil Division for two years. 
A variety of intramural sports, Lyrica (Iowa State Campus Women's Choir), Society of Women in Engineering, and activities through Saint Thomas Aquinas Catholic Church & Student Center. 
Valuable hands-on learning experiences: I have had many opportunities for hands-on learning during my time at Iowa State. This included ASC Competitions, Fall/Spring Break Service Trips, and internships.
The most valuable opportunities I had were during my summer internships. I've interned with Peterson Contractors, Inc., Heartland Asphalt, and GeoStabilization International. Working in the field gave me the valuable opportunity to be a part of the construction process. 
Influential mentors: I first met Beth Hartmann, then a teaching professor of civil, construction and environmental engineering and now a teaching professor with Women in Science and Engineering, at a high school summer camp for women exploring engineering at Iowa State hosted by SWE. This influenced me in choosing engineering at Iowa State. During my early years at Iowa State, Beth was my professor and became the AGC advisor and ASC coach. She was influential to me as a woman in the construction industry and offered advice throughout my undergraduate career.
Starting my junior year, Roy Sturgill, assistant professor of civil, construction and environmental engineering, became an influential part of my college career. He has been my professor, advisor of AGC, and coach for ASC. He was also the first person to suggest that I pursue graduate school. 
Greatest accomplishment: The relationships I have built. Throughout my involvement in construction engineering, I have formed many connections with my peers through AGC service trips, ASC competitions, and as a ConE peer mentor.
I have built relationships with not only my classmates but with my peers in the classes ahead of me and the classes below me. I learned a lot from those who have gone before me, and I hope that I have passed on that knowledge to those who are following. In addition, I have developed relationships with my professors and faculty. I value all of the guidance and advice they have given me throughout the years. 
Plans for after graduation: I am returning to the GeoStabilization International internship program for a second summer before returning to Iowa State for graduate school. I plan to pursue my master's in civil engineering with a focus in geo-construction. 
Leaving my mark on the world: As an engineer, I want to improve lives by designing and building safe infrastructure, from stable foundations to safe roads and bridges. 
Engineering like a Cyclone Engineer: The number of opportunities I have had to grow academically and as a leader have been unmatched. This ranged from rigorous coursework to extracurricular activities to industry internship experiences. I was able to choose my path in and out of the classroom to develop myself into the best engineer I can be.