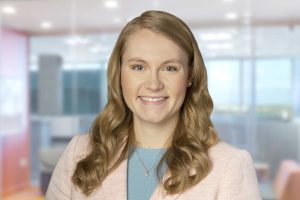 Celebrating Women's History Month this March, Iowa State University Department of Civil, Construction and Environmental Engineering is highlighting past, present and future women in engineering. Lauren Bockholt, a Senior Project Engineer at Ryan Companies, is an Iowa State Alumni graduating with her bachelor's in construction engineering (ConE) in 2017 and her master's in structural engineering in 2018. She has always been structurally minded and has been making architects' visions a reality in the field in her career.
Recently, Bockholt managed the construction of a 15 million dollar structure for a federal courthouse in downtown Des Moines. She said she used her structural engineering background from Iowa State to succeed in this project. At Iowa State, Beth Hartmann was one of the biggest mentors and advocates for Bockholt, talking her through tough situations, connecting her with resources, and becoming a mentor in her career.
"Even after graduating, I would reach out from time to time for advice, and she was happy to help. I know many of my classmates, women and men, would say the same!" said Bockholt.
When asked about the challenges of being a woman in engineering, Bockholt explained, "The most challenging part of being a female in this field is earning respect from male co-workers and clients. I think that as females, we are forced to go that extra mile to prove ourselves, especially with people you don't work with on a daily basis. In these situations, confidence is key. Know your information and own it. People will respect you for that."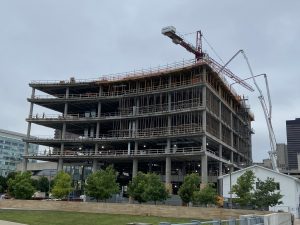 In her time at Iowa State, she was a student leader in the National Association of Home Builders, Design-Build Institute of America Student Chapter, and the Association of General Contractors of America Student Chapter. Taking her leadership skills learned here at Iowa State and career experience, she leads projects for Ryan Companies and CCEE's Graduates of the Last Decade (GOLD).
Her advice to current and future women in engineering:
"Connect with people in your major. I met my three best friends in the ConE program at Iowa State, and we all helped each other be successful in the program," Bolkholt said. "Pursue leadership positions within your program. Employers find this just as important as your GPA. These positions also give you access to great networking opportunities with employers. Pursue summer internships. These are excellent learning opportunities, and they will give you a good real-life perspective on what you are learning in the classroom."