Traveling to every corner of the state, Iowa State University Department of Agricultural and Biosystems Engineering (ABE) technical project specialists Ryan Bergman, Ben Covington and Levi Powell teamed up with ISU ANR Extension and Outreach field agronomists to optimize knowledge for farmers and businesses on planter equipment through a five-day workshop series called 'Planter University.'
This program targeted the entire state of Iowa – starting the first workshop on day one out of five in Northwest Iowa, and hosting the last day of the series in Nevada, Iowa. Each day, an ISU Extension and Outreach field agronomist(s) shared their knowledge with attendees around issues seen in recent years related to crop planting, while ABE specialists provided additional technical information with physical planters and row unit demo stands present at the event.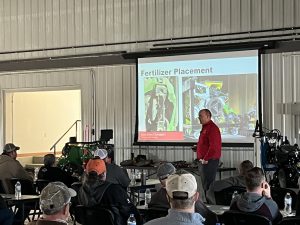 This was the first year of Planter University – inspired by last year's planting and growing conditions, when the teams noticed issues arising across the state related to planting equipment and conditions.
"The idea for this event started last summer after the planting season was over," Bergman said. "Many of the field agronomists that we've worked closely with over the years were seeing many issues with planters. It was a dry season, and that caused some machine and seed performance issues."
The presence of issues across the state sparked an interest for the teams to host an event where growers and companies, particularly equipment and precision ag providers, could learn more about the planters. The sessions focused on how to best maintain and setup their planter for success every growing season. For farmers, it can be difficult to find the time to assess their planters and planting setup. But at ISU, the ABE department and Extension and Outreach has been analyzing exactly that – and now has resources to share their knowledge.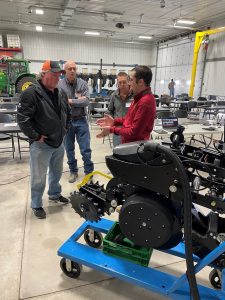 "What makes us uniquely equipped to do this is our knowledge of the equipment and technology. We have gained this over many years through our industry sponsored research programs," Bergman said. "Over the years, we have become experts on these technologies and devices, learning the systems in and out and giving us a deeper understanding of that space than a lot of folks typically have access to."
With over 200 guests attending Planter University across the state, the first year conducting this program turned out to be a large success. Each location had a capacity of 40 people – and each location quickly reached that number, most even slightly over.
For the team at Iowa State, having the opportunity to share their knowledge with these guests was one of the many rewarding parts of the program.
"Getting out of our offices or shop, talking to people, hearing their problems and coming up with potential solutions was the highlight of the event for us," Bergman said.