A well-known leader with a kind heart in the Iowa State University Department of Civil, Construction and Environmental Engineering and in the profession, Jerry Chase, who passed away on January 26, 2022, left behind many successes and happy memories in CCEE that will never be forgotten.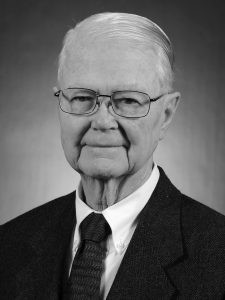 From start to finish, Chase was often known for his encouragement toward others to pursue their dreams. Born in California in 1934, Chase grew up and established a career in the military, completing assignments in Ecuador, Vietnam and many Army posts in the United States. Years later, Chase found a passion for construction engineering and joined CCEE as a construction engineering professor in 1977 – where he taught generations of students for 19 years.
Chase was a spark to CCEE – passionate about teaching and advising students on their path to innovation. A mentor to many, his constant words of encouragement and enthusiasm inspired and motivated students and fellow faculty in the department.
"Jerry was my mentor in both teaching and research. He helped me to increase my engagement and enthusiasm as a teacher and take a 'Total Quality Management' approach to improving construction work processes as part of my research," Chuck Jahren, CCEE professor and one of Chase's many mentees said. "Although such activities are no longer known as 'Total Quality Management,' much of my success as a teacher, leader and researcher are owed to his mentorship."
Chase's passion for helping others never truly came to a stop – even after retiring in 1996, Chase loved supporting the community and his past mentees.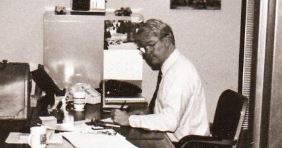 "After retiring, Jerry attended our senior graduation dinners to encourage our pending graduates in their new lives and to share memories of the origins of the construction engineering program," Jahren said. "His heart-felt enthusiasm for our program and Iowa State University were contagious and memorable."
In 2015, Chase was inducted into the CCEE Hall of Fame for his outstanding contributions to the program and the profession. Always putting students and their passions first, Chase sponsored the 'Jerry Chase Scholarship' with Jahren, a scholarship dedicated to students studying construction engineering.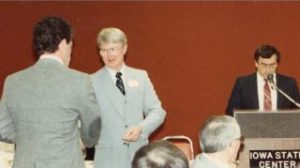 "My favorite memories of Jerry are many, in that every time I met him he was very engaging and kind," CCEE department chair David Sanders said. "You could tell that he cared, and his caring attitude was reflected through the entire program and department."
Chase's humble heart and empathy for others is reflected in the 2010 Construction Engineering report. Chase recalls the day he was invited to be a CCEE faculty member with joy, and reflects on his love for helping students grow in their future careers.
"I soon came to love what I was doing," Chase had said. "Teaching, advising and incorporating teamwork into what we were doing in the classroom."
Chase reflects that some of his 'fondest memories' were supporting student activities outside of the classroom, through field trips, monthly meetings and more. As a professor-in-charge from 1982-1986, Chase credited CCEE's construction engineering successes to the students, faculty and staff that 'kept the department alive.'
Making a difference for CCEE and communities around the world, Chase is remembered as a caring leader giving encouragement and inspiration to many.