The CCEE 150 celebration brought together generations of civil, construction and environmental engineers to recognize the pioneers of the past, achievements of the present, and innovations of the future.
Celebrations began Thursday evening at Prairie Moon Winery. Alumni, faculty, and staff enjoyed local wine while socializing and viewing current and historical photos. They also dove into 150 years of history with department trivia and highlights.
Friday kicked off with a Research Symposium, where current undergraduate and graduate students showcased their research activity. Poster presentation topics ranged from "Stabilization and concentration of nitrogen in synthetic urine with Peracetic acid and Progressive Freeze Concentration" to "Real-time Traffic Volume Prediction in Freeways during Hurricane Evacuation Using Data-driven Approaches." With over 40 presentations, attendees got a real taste of recent CCEE research discoveries.
After awards for presenters were given at lunch, attendees were able to play in a 9-hole golf tournament at Coldwater golf course, or go on local construction site tours. The evening ended with a networking social at the beautiful Des Moines Botanical Gardens.
Saturday morning, families and friends came together to honor 26 inductees into the CCEE Hall of Fame and Distinguished Alumni at the Student Innovation Center. Many honorees attended the ceremony and told stories of their time in the industry. Others came to honor those who have passed and accepted the honor on their behalf. David Sanders, Greenwood Department Chair and Professor, led the induction ceremony, speaking about each honorees' accomplishments.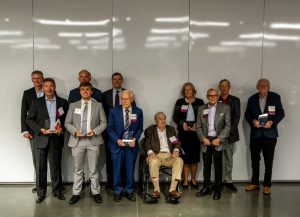 After an afternoon of campus tours including Town Engineering and reminiscing about Iowa State experiences, students, staff, faculty, and alumni headed to the Sukup End Zone Club at Jack Trice Stadium. There they enjoyed drinks and appetizers while listening to Iowa State students play jazz tunes. Cy was able to join us during the reception. As the sun was setting over the stadium, the party moved upstairs for a formal dinner and our keynote speaker, Jack Uldrich, Global Futurist.
For information about our Hall of Fame and our Distinguished Alumni inductees as well as great pictures and details on our 150 years of accomplishment, go to https://www.ccee.iastate.edu/150