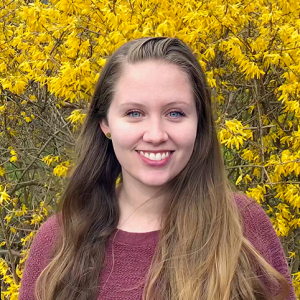 Emily Johnson completed her Ph.D. in mechanical engineering and wind energy science, engineering, and policy this summer. This fall, she started at the University of Notre Dame as an assistant professor in the aerospace and mechanical engineering department. 
In her time at Iowa State, Johnson was an author on 10 publications with 101 citations, ranging on topics from heart valve analysis with a focus on parametric design to wind turbine blades. 
She was also involved in the Center for Multiphase Flow Research and Education (CoMFRE) alongside Ming-Chen Hsu, associate professor of mechanical engineering, working in the Computational Fluid-Structure Interaction Laboratory. Johnson has interests spanning many engineering disciplines, but her specific expertise lies in the junction between parametric modeling, computational mechanics, and isogeometric analysis. 
Johnson came to Iowa State and joined Dr. Hsu's research group in the fall of 2016. 
"I remember she was very dedicated to the program and showed a strong passion for research from day one," said Hsu. 
CoMFRE is interdisciplinary and has given Johnson the opportunity to work in an interdisciplinary space and culture. Her work during her Ph.D. required strong collaboration from many different disciplines. 
CoMFRE organizes seminars and workshops to give graduate students excellent opportunities to explore the industry, research and academia. 
"I feel these activities can have a great impact on our graduate students, their research interests, and their opportunities to explore different career paths," said Hsu.