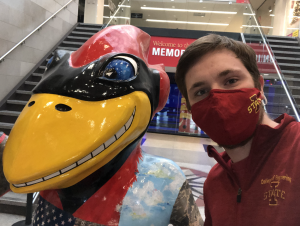 Major: Materials Engineering
Hometown: Woodbury, Minnesota
Clubs and activities: The Engineering Ambassador and Mentor Program (TEAM), Material Advantage, Engineering Student Council, and Engineering Leaders of Tomorrow
Who was your most influential mentor while at Iowa State?
Sadie Johnson, engineering student recruitment and marketing manager, has been a fantastic source of advice and support throughout my time at Iowa State.
What would you consider your greatest accomplishments at Iowa State?
Organizing, with the help of many, two jacket sales for TEAM that raised over $4,000.
What's your favorite memory of your time at Iowa State?
Studying abroad in Valencia, Spain.
What's your favorite place on campus?
The Sukup Atrium.
What's your advice for first-year Iowa State engineering students?
Don't be afraid to ask your professors and classmates for help. Along the same lines, don't be afraid to help your classmates around you who may be struggling. College is not a competition between two students fighting for the best grade; it is about working to be the best you can possibly be.
What do you like to do in your free time?
In my free time, I like to play the cello, go biking, and play video games with friends.
What's one lesson you're taking away from this challenging pandemic year?
Even when it seems difficult, you need to take time for yourself so that you can be your best self. Find something that you like to do and make sure that you make time to do it, like working out, going for a walk, or playing an instrument.
What are your plans for after graduation?
Working as a facilities engineer for Western Digital in San Jose, California.