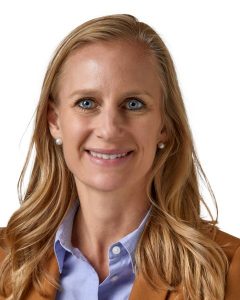 Gretchen Kinsella ('02 con engr), Phoenix, Arizona, has been selected to receive the Young Alumni Award from the College of Engineering.
The Young Alumni Award recognizes alumni, age 40 and under, who have excelled in their professions and provided service to their communities.
Kinsella is a construction engineering leader on the rise who has advanced quickly at DPR Construction from intern to leadership. She started at DPR in Phoenix, Arizona, in 2001 and immediately asked for a more challenging project with bigger engineering problems to solve. Her spirit of pushing the limits has led to fast progress, from project engineer to project manager to project executive – and now she is leading the entire business for DPR Construction in Arizona.
Kinsella has demonstrated outstanding skills in a wide variety of construction engineering areas, including risk management, operations, people development, and work acquisition.
In 2019 she was named to Arizona's Real Estate People to Know, and she's been profiled in Engineering News-Record's Viewpoint series. In 2020, Kinsella was named to Arizona's Real Estate People Most Influential Women in Real Estate list.
Kinsella serves as a role model for women in the building industry. She has shared her story at the 2017 ENR's Groundbreaking Women in Construction conference and serves the Phoenix community. Kinsella is currently a member of Greater Phoenix Leadership and is on the board of directors for Banner Health. Previously, Kinsella served on the Junior League of Phoenix for seven years.
She was similarly involved in the Iowa State University community during her time on campus, participating in numerous organizations, including Homecoming Committee as special events chair and the Panhellenic Board Council.
Kinsella is married to Ryan Kinsella, and they are parents to a four-year-old daughter who fills Kinsella's free time with joy and laughter.