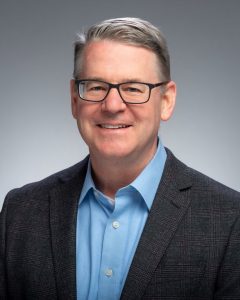 Edward Maginn ('87 chem engr), South Bend, Indiana, is being honored with the Professional Achievement Citation in Engineering award from the College of Engineering at a virtual ceremony on April 7 at 7 p.m. Register to watch or leave a note of congratulations here.
The PACE Award was established in 1968 to recognize superior technical or professional accomplishments in research, development, administration, education and other engineering activities. The citation recognizes alumni eminently known for their professional competence and creativity.
Maginn is a recognized research and education leader in chemical engineering. Currently the Keough-Hesburgh Professor in the University of Notre Dame Department of Chemical and Biomolecular Engineering, he has demonstrated success in both research innovation and inspiring the next generation of chemical engineers.
Maginn was the department chair from 2012 to 2020 and previously served as associate dean for academic programs in the Notre Dame Graduate School. He has advised 32 Ph.D. students, 21 postdoctoral researchers, and 29 undergrad researchers, and he teaches a wide range of undergrad and graduate-level thermodynamics, process design, and separation processes courses. He has won multiple teaching awards, including the BP College of Engineering Outstanding Teacher Award.
Maginn's research expertise is the development and use of atomistic molecular dynamics and Monte Carlo simulation methods to study the thermodynamic and transport properties of materials, with emphasis on ionic systems important in energy and environmental applications. He has published more than 180 peer-reviewed articles, holds five patents, and has been elected a fellow of the AAAS and the American Institute of Chemical Engineers. Maginn is senior editor and founder of the Springer Nature series "Molecular Modeling and Simulation: Applications and Perspectives" and is a senior editor of The Journal of Physical Chemistry B.
After graduating from Iowa State, Maginn worked as a process engineer for Procter & Gamble and received a Ph.D. from the University of California, Berkeley. He is married to Iowa State alumna Tracy Maginn ('87 English), and he and Tracy have four children: Grace, Jake, Emma, and Teddy.